Men's hockey nets exhibition win against Manitoba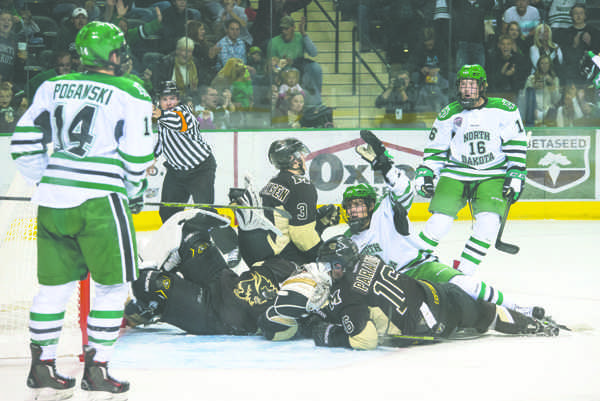 UND sophmore Johnny Simonson celebrates one of his three goals in Saturday's win over Manitoba. Photo by Nick Nelson/ The Dakota Student
First impressions are huge, especially in a workplace. They can make a lasting impact. It's key to get off to the right start with the right people.
For new University of North Dakota head coach Brad Berry, he made quite the first impression on UND fans over this weekend as his squad defeated Manitoba 8-3.
Saturday night was a night of thrills, slight spills, and a banner raised into the rafters of the Ralph Engelstad Arena.
Despite the final score, it was a little bit of a slow start by UND. Four minutes into the second, Manitoba had a 2-1 advantage against the home team.
"I knew the execution would be a little rusty early and it was to some degree,'' UND coach Brad Berry said. "The biggest thing I liked was our compete factor. I liked when we were down 1-0 and 2-1, it didn't shake our bench and put panic into our group with a bunch of young guys."
UND decided enough was enough and went on to score seven unanswered goals. Freshman Shane Gersich got the puck rolling by scoring two goals within a minute of each other. Sophomore Johnny Simonson decided to follow the leader by scoring the next two goals and within a little over ten minutes of Manitoba's go-ahead goal, UND was up 5-1. It wasn't over yet in an explosive 2nd period as Drake Caggiula net a goal to cap a five goal second period.
The offense showcase continued for UND as freshman Joel Janatuinen scored his first goal and Simonson completed his hat trick in the third period to put the icing on the cake for an 8-3 victory over Manitoba.
UND recorded 56 shots on goal while goalie Cam Johnson recorded the victory by stopping  12 shots.
With an impressive start to the season filled with young talent, UND will head to Maine for a matchup against lake Superior State in the Ice Breaker Tournament.
Jack Harvey is a sports writer for The Dakota Student. He can be reached at [email protected]