City Council mulls stricter alcohol laws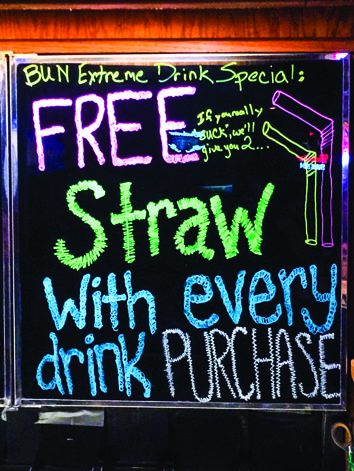 Despite the proposed ordinance, bars in town like Bun Lounge continue to offer 'extreme' drink specials. Photo by Larry Philbin/The Dakota Student.
Two laws proposed to the Grand Forks City Council that seeks to limit extreme drinking in the community were tabled at a recent meeting. The council decided to wait until its meeting on March 2 to discuss the ordinances further.
The proposals came from the Community and Campus Committee to Reduce High-Risk Alcohol Use (CCC), which is made up of UND students, faculty and members of the Grand Forks community. The CCC has been working on the ordinances for several months.
One of the laws proposed would limit bars from offering extreme drink specials. It includes unlimited drink specials and games that focus on consuming alcohol. The other ordinance would make it illegal for anyone to host any environment where underage drinking takes place.
"I don't think it's fair for the City Council to be able to restrict how bars sell their alcohol," senior Alexa Beauclaire said. "If they have been given an alcohol permit, then they've obviously met the requirements to be able to sell alcohol."
According to the Grand Forks Herald, several bar owners shared similar concerns at the meeting about not wanting to have the city limit the way they sell to their customers.
The Herald also said concerns were raised about the other ordinance in response to its wording not being clear and that it might not be enforced because there are laws that already cover instances of minors drinking and being served.
"It's hard enough for the police to give out minors when there's a huge house party or something like that," UND senior Jenna Dygert said. "But this seems a little redundant anyway, because the people hosting the party can get in trouble for serving minors."
Both of the ordinances will be discussed at the city council's March 2 meeting.
Megan Hoffman is a staff writer for The Dakota Student. She can be reached at [email protected].