Editors celebrate the autumnal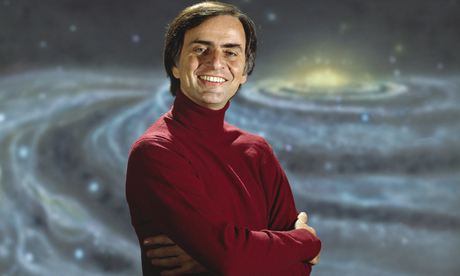 Carl Sagan, late scientist and turtleneck enthusiast. Photo submitted.
Will Beaton, Editor-in-Chief
The best part about fall in G-Funk is the ability to wear awesome sweaters — bonus points for turtlenecks. There's just something super nice about being bundled up just enough to feel perfectly warm despite the chilliness of the outside. It's officially winter in my mind when I trade sweater combinations for my big, poofy ski jacket that makes me look like a giant blueberry. When it's too hot, there's only so much you can do about it; if you're stripped down to your boxers, you've got a fan running, but you're still hot, you're screwed. When it's cold, you can usually just throw on another layer to take care of it. Turtlenecks are nice and snug, and, in my mind, they're the only real thing worth looking forward to when it gets cold.
Larry Philbin, News Editor
We are all now getting very familiar with the "pumpkin spice" phenomenon. The stereotype is that in the fall, we always see college girls in Ugg boots, leggings, North Face jackets and scarfs walking down University Ave. with pumpkin spice lattes from Starbucks. However, as a male, I have to admit that I share the love for pumpkin spice along side the Ugg boot girls on campus. In the fall, I am always fast to hop right on the pumpkin spice bandwagon. I buy the candles, the soap, the coffee creamer, and I have even dabbled in pumpkin spice beer and vodka (although I recommend you don't touch the vodka with a ten foot pole). Other men who also enjoy the pumpkin spice phenomenon just know this — there is no shame in it, and you are not alone. After all, you only have one season to enjoy it, so you might as well indulge while you can.
Maggie O'Leary, Multimedia Editor
I took a Meyers Briggs personality assessment when I was a sophomore and learned I'm an INTJ, which in fantasy terms means I am an Elrond or a Tywin Lannister. Aside from the problems inherent in trying to systematically compartmentalize my identity, this is something I can get on board with. Fall compliments the tendencies this personality type engenders beautifully, in that it marks the beginning of school and the absolutely delightful organizational opportunities it presents the strategically-minded. In my case, nothing screams "fall" more than the DYMO 1752265 LabelWriter 450 Turbo — the thermal label printer that haunts me as a financial impossibility, an elusive prince that refuses to settle, the ghost in my eyes. As an autumnal aromatic backdrop, pumpkin is perfectly serviceable, but few scents mark the beginning of the new season better and more noticeably than the warm, slightly acidic bite of a freshly-printed label.
Elizabeth Erickson, Sports Editor
Sitting around a bonfire, crunching leaves on the way to class, cheering on athletic teams as they compete in the cool weather — we're all slipping further into another season of fall. The humidity of summer has long faded, and the long-dreaded winter months aren't far ahead. The best part of fall might be watching everyone so enthusiastically take advantage of everything before pumpkin spice lattes are gone until next year, and the vibrant leaves get covered in snow. It's still not surprising to have to scrape ice off the windshield in the morning and blast air conditioning on the drive home, but that's what makes this season so acceptable for taking advantage of everything you want to do before December hits. Take a walk through one of North Dakota's few areas of trees, or get lost in a corn maze. Enjoy the short time fall offers.