Beaten in Boston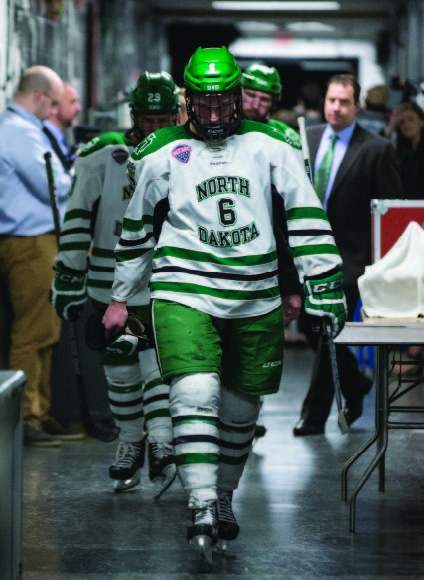 Sophomore defenseman Paul LaDue walks through the tunnels at TD Garden in Boston last weekend at the Frozen Four. Photo by Chester Beltowski/The Dakota Student.
BOSTON — A handful of skaters stayed on the ice after the game, many of them kneeling in the ice, their heads down as they glanced away from the scoreboard at TD Garden that showed a 5-3 loss in the NCAA Frozen Four Semifinals against Boston University.
For a senior class that was the last to wear a Fighting Sioux logo, dreams of hoisting an eighth national championship trophy were severed. There was no celebration last Thursday night, just a familiar spiral toward the heartbreaking end of a season that ended the same way it did last year.
The last five trips to the Frozen Four were all spent the same — never quite continuing on to the championship game. Despite its seven trips to the Frozen Four in 11 years, this one featured different means of reaching what would eventually become the end.
Some of UND's teams were expected to make the familiar trip to the national stage — some weren't.
Other seasons began with a slow start that would require just the right situations to come out as one of the top-four teams competing for a national title.
This team made it under different circumstances.
But whether it was overcoming injuries that left skaters watching from the stands, or banding together to travel the road to the Frozen Four and end a 15-year drought of raising another banner, it was impossible to encompass how the season shaped the team after leaving the ice for the last time.
"As you all might imagine — I've said it before because I've been in this situation — it's impossible to put perspective on a season," UND coach Dave Hakstol said. "So I won't try and do that."
North Dakota fell to an early 2-0 deficit that Luke Johnson was able to erase less than a minute into the second period. The sophomore fired a shot from a sharp angle and triggered momentum for North Dakota.
The Terriers made it 3-1, then 4-1.
North Dakota had one final period of play to rally a comeback.
Troy Stecher and Connor Gaarder succeeded in putting UND within one goal of a shot at the championship game. Yet no more pucks were put in the net.
The season was over.
"It's a tough time for our group in the locker room," Hakstol said after the game. "Especially for a group of seniors that for four years have led our program, and for many of them maybe done it for unexpected circumstances. No one better than our captain and our leader than in Steph Pattyn through these past four years."
The captain, like many of his teammates, remembers the Minnesota goal with six-tenths of a second left on the lock last season that ended UND's season in the semifinals. He watched the class above him never capture their ultimate goal, learned from the experience and led this team with hopes of ending it differently.
A different makeup, a different journey — yet North Dakota always knew what it was trying to accomplish.
"We've kind of been the same team all year — led by our seniors obviously," Stecher said. "Never any doubt in our minds or any quit, just a game of hockey."
Five seniors ended their 29-10-3 season at that.
Hakstol said despite the team's execution in the first few minutes of the game, there wasn't much more to ask of the players that never emanated a feeling of defeat.
Despite falling into a hole to climb out of, North Dakota reset its course, banded together and fell just shy of what it traveled to Boston to accomplish.
"I think this group is, I've used the term, resilient," Hakstol said. "I had no question what our third period would be like. That's a deep hole to come out of, let's be honest. I don't think there was any second thought about it. Put the next shift together — I thought that's what we did as we rebuilt our first period from there.
"I had no question in my mind that we would tie this game up as we got into that last minute, minute and a half. I thought our group stuck together, and we came up short."
Elizabeth Erickson is the sports editor of The Dakota Student. She can be reached at [email protected].