Report shows increase in DUI arrests
STATISTICS Results in UND's annual Security and Fire Safety report reflect rising numbers of DUI arrests.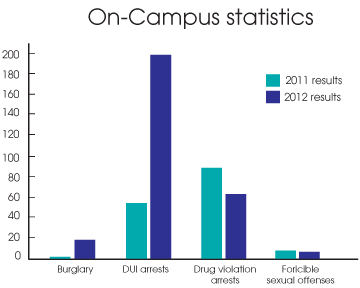 UND's annual Security and Fire Safety Report for the 2012 calendar year shows increase in DUI arrests and burglary reports.
According to University Police Chief Eric Plummer, the biggest change was seen in DUI arrests, which saw a significant increase, jumping from 54 in 2011 to 199 in 2012.
"We had some additional grants to focus on DUI enforcement, which leads to more DUI arrests since more officers are able to focus on DUIs," said Lori Reesor, vice president for student affairs.
Reesor serves as the co-chairperson for the Community and Campus Committee to Reduce High-Risk Alcohol. The committee was charged with creating "a community and campus culture that supports responsible, low-risk alcohol use."
According to a committee website, high-risk drinking  includes "excessive consumption of alcohol that increases the risk of experiencing negative consequences for those who are drinking but also for the community."
"It is always a concern when we have an increase in DUI arrests, we are very concerned about the safety of our students," Reesor said. "We are working hard to educate students to make better decisions with alcohol. We will continue our efforts to help students make good decisions and hold them responsible for their bad ones. We will continue our efforts to help students make good decisions and hold them responsible for their bad ones. We will be working on more plans to improve these statistics with the city and with the school."
Reesor added that, although the numbers have gone up, "there are many students who are making good decisions" and many are "choosing not to drink or to drink more responsibly."
Other results vary
Other results in the report  reflect decreases in arrests, public alcohol arrests and sexual assaults, and increases in burglaries and drug violations.
The report details criminal homicide, sexual offenses, robberies, aggravated assaults, burglary, motor vehicle theft, arson, drug, alcohol and illegal weapons violations, as required by the Clery Act. Every school in the country has to have its report published by Oct. 1 annually, but UND is working to publish its by May 1 starting in 2014. This push to get the report out sooner reflects an attempt to give potential students information about the campus before they apply.
"By October the freshmen are already in, and have already made their decision," Plummer said. "We want them to make an educated decision on where to go to college. That is our goal and our mission."
Students responsible for the crimes recorded in the report statistics can expect a variety of repercussions, legally and within the university.
"The dean of students is always made aware and we determine what the next step with (the student) needs to be," Reesor said. "If a student is found responsible for violating the student code of conduct, then there are a variety of sanctions."
Changes ahead
As of March of 2014, the law will change and require the reports to include statistics on domestic abuse, dating abuse and stalking as well.
"We help to make sure the wording is clear and consistent with the Clery requirement," Dean of Students Cara Halgren said. "We want to make sure it reflects our policies and procedures."
The fire safety part of the report was new starting in 2010. It was added to make sure universities have the correct procedures in place for fire drills, evacuations, fire safety and education as well as a fire log for residence halls.
Jeanne Clery, the namesake of the Clery Act, was a college freshman at Lehigh University in 1986 when she was raped and murdered in her residence hall. After Clery's death, her parents fought for legislation that requires every university to publish an annual report detailing the crime statistics from the last three years that happened on the campus and in the community.
"(The report) is a great resource for students and families at UND," Plummer said. "It can be confusing, but that's why we put the definitions and explanations in there. Hopefully it helps students make a better-informed decision about the university and the community."
Megan Hoffman is a staff writer for The Dakota Student. She can be reached at megan.hoffman@my.und.edu.