Exhibit marks 50 years since JFK visit
ANNIVERSARY UND commemorates JFK visit to campus with tribute in Chester Fritz Library.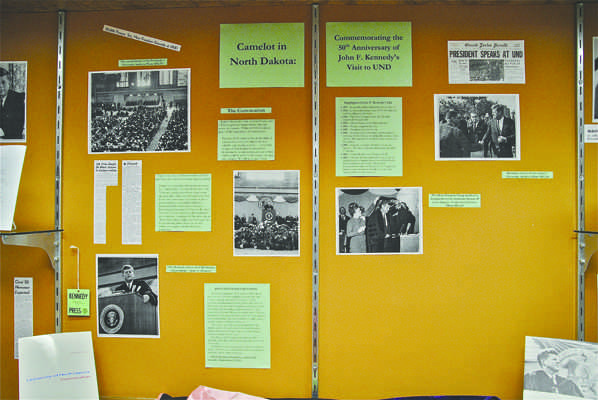 Part of the JFK exhibition located in the Chester Fritz Library commemorating the 50th year since JFK visited the UND campus. Photo by Caitlin Duggan.
It was 50 years ago on Wednesday, Sept. 25, when former U.S. President John F. Kennedy spoke to a starstruck crowd of more than 20,000 people at UND.
Kennedy's 24-minute-long speech at the UND Fieldhouse, which is now the Hyslop Sports Center, was part of a 12-state tour of the Midwest.
"My father-in law — I think he was a freshman at the time —was there very early in the morning so he could get a good spot," Chester Fritz Library archival specialist Brian Baier said. "He said it was the longest and loudest
applause he'd ever heard."
The event
The UND Fieldhouse had enough room for 10,000 audience members, according to Baier, but there were another 10,000 standing outside, listening to Kennedy on large speakers. There was more room for them than there is now, since the Columbia overpass had not been built yet.
Much of Kennedy's speech focused on environmental conservation, specifically preserving North Dakota's land and water quality.
"Unless we make the proper decisions today on how we shall use our water and our air, and our land and our oceans," Kennedy said. "Unless we make the comparable effort, an effort comparable to what Theodore Roosevelt and others made 50 years ago, we are going to waste it."
To many, Kennedy's words are still resonant.
"Some of his topics are still very relevant today," Baier said.
Before leaving Grand Forks, Kennedy received an honorary Doctor of Law degree from UND.
"I am confident I am talking to the future rulers of not only North Dakota, but the United States," Kennedy said during his visit.
Anniversary celebration
To celebrate the event's anniversary, the Chester Fritz Library is featuring an exhibit titled "Camelot in North Dakota: Commemorating the 50th Anniversary of John F. Kennedy's Visit to UND."
It can be found on the fourth floor in the Elwyn B. Robinson Department of Special Collections. The exhibit features photographs, convocation programs, letters between Kennedy's staff and former UND President George Starcher, newspaper articles from The Dakota Student and the Grand Forks Herald and other miscellaneous items from the University Archives.
A digital archive of photos, speech transcripts and audio clips can be found on UND's website.
The exhibit is open to the public during normal business hours: Monday, Tuesday and Thursday 8 a.m. to 5 p.m., Wednesday 8 a.m. to 9 p.m., and Friday 8 a.m. to 4:30 p.m.
"It's really cool that he was here," exhibit patron Ron Baker said. "He definitely put Grand Forks on the map. Before that, it was all about railroads and farming here."
Less than two months after his visit on Nov. 22, 1963, Kennedy was assassinated in Dallas, Texas. UND students mourned his loss by gathering around a radio in Merrifield Hall to listen live to the funeral service.
Jaye Millspaugh is the multimedia editor for The Dakota Student. She can be reached at [email protected]my.und.edu.