Fleecs Continues to Stand Out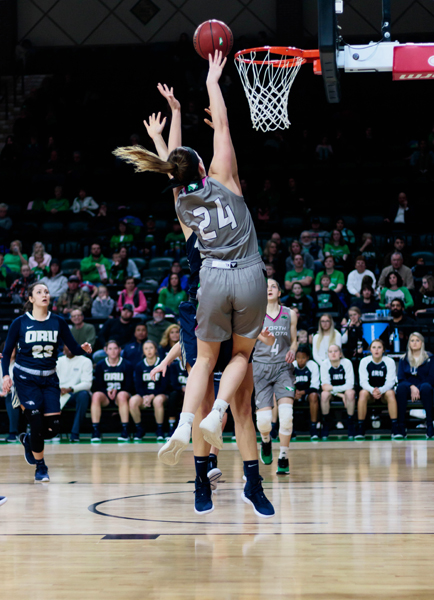 Julia Fleecs, a freshman forward on the University of North Dakota Women's basketball team, is a passionate, driven, hard working individual on and off the court. Although her first season with the Fighting Hawks is not over yet, she has distinguished herself as a threat on the court. Fleecs is the third highest scorer on the team this season and averages 8.5 points per game.
Fleecs, born and raised in Glidden, Iowa; a small town with a population of only a little over a thousand people. She started playing basketball in third grade at a park across the street from her childhood house.
"It was fun," Fleecs said. "I liked beating the boys in my class on the court."
Basketball was not the only sport Fleecs played. She developed love for other sports in high school while she played basketball, volleyball, track and softball.
"I love basketball," Fleecs said. "But it can get really physical. Sometimes in high school I'd think of volleyball as more of my relaxing sport."
Although Fleecs pours time and effort into the sport, she is a student first. She is currently studying biology with a minor in pre-medicine at the University of North Dakota. She hopes to attend medical school after finishing her undergraduate degree here, potentially overseas, and specialize in pediatric medicine.
Fleecs' parents are two of the biggest inspirations in her life. Her father played football for Iowa State and her mother is a nurse practitioner, so her passion for medicine and athletics runs in the family.
"Balancing college and Division 1 sports can get hard," Fleecs said. "Missing class for team travel is difficult but the professors are so understanding. Even with the lack of time or missing class I still make sure to get good grades for the team."
The team is one of the main reasons Fleecs chose to come to UND in the first place.
"I loved the people here (in Grand Forks)," Fleecs said. "I immediately got a family feel from the girls on the team."
On Feb. 1, Fleecs came out of the game against Western Illinois with a new career high of 33 points. Even though Fleecs left that game with a new career record, the Fighting Hawks walked away from that game with a loss. The team's outcome was much more important to Fleecs than her own individual accomplishments.
"(That game) reminded me a lot of high school," Fleecs said. "The career-high didn't really matter to me because we still lost the game. We still need to play decent."
Even though the women's basketball team currently isn't having the best season, Fleecs wants to continue to push forward and finish out the year strong.
"We have grown so much this season," Fleecs said. "I want to finish off the season strong and make a run in the tournament. I'll do whatever I can to make that happen."