UND Has Faith in Dooley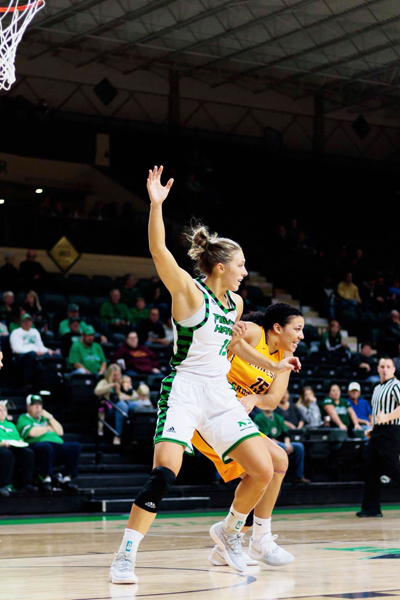 Hanna Hill, Sports Writer
January 29, 2019|1,204 Views
A hardworking leader; the first words that come out of any UND sports fan's mouth when asked about Faith Dooley.
As soon as Dooley started school at the University of North Dakota she showed promise as an all-star athlete; starting out as a standout on the volleyball team. Shortly after Dooley started her junior year, she was offered a position with the basketball team and joined mid-season 2017-18.
Despite being a great basketball player, she has many dreams both professionally and personally. Dooley expressed that after college she would love to be a coach or even be a head trainer at a gym. She gained passion for health and fitness from her volleyball and basketball fitness team.
Sports and fitness also sparked her interest for kinesiology. She is currently in the kinesiology master's program at UND.
Outside of playing sports, Dooley spends her free time doing a variety of things ranging from exercising, playing with her dog and swimming. Before deciding to study kinesiology, Dooley wanted to study interior design because of her interest within the field.
After playing two very competitive sports, Dooley has grown in many ways. She explained that she learned many valuable lessons during her time here at UND. The one that stood out to her the most was leadership. She has grown more into the leadership role since she started playing college sports.
One thing that Dooley deals with well, especially being in a masters program, is time-management. Being a college student on its own can be hectic, but being a division one athlete amplifies the stress because of the expectation to essentially juggle two full-time jobs.
"Being an athlete, you need to push yourself to get whatever you need to get done so that you can play your sport," Dooley said. "A big part to succeeding as a division one athlete is communication with professors. They're always willing to help."
Being competitive obviously comes naturally to Dooley who has played at the top of the field in two different collegiate sports. Dooley explained that she gets her competitive nature from both of her parents. She said that her parents did everything in their power to help her. However, when it came to the decision to decide if she wanted to accept the offer to play basketball, they left the decision up to her.
"My parents didn't help me with that decision," Dooley said. "They would call me and talk to me about it, but they encouraged me to do things on my own."
Her parents simply told her to never quit anything, which is advice that she values in every aspect of her life.
A big show of dedication on Dooley's part is the time she puts in during the off-season. Off-season training is a huge part of how athletes and teams perform during their season. Dooley believes spring training is more challenging than in-season training.
"During spring training, we're lifting heavier weights and doing a lot of sprinting," Dooley said. "Also, conditioning is much harder than during the season."
Behind every great athlete is a great support system, and Dooley has no shortage of people on her side.
"The people who inspire me most are my parents and grandparents," Dooley said. "My grandpa was the person who taught me what hard work really was."
Nobody would question that her grandpa taught her well. Hard work is the core value that is built into every block of Dooley's life, and will continue to serve her well in the future.
Faith Dooley and the rest of the UND women's basketball team will be back in action on the road this weekend. The team plays Western Illinois on Friday, Feb. 1 and Omaha on Sunday, Feb. 3.