Women's Soccer wraps up first season in Summit League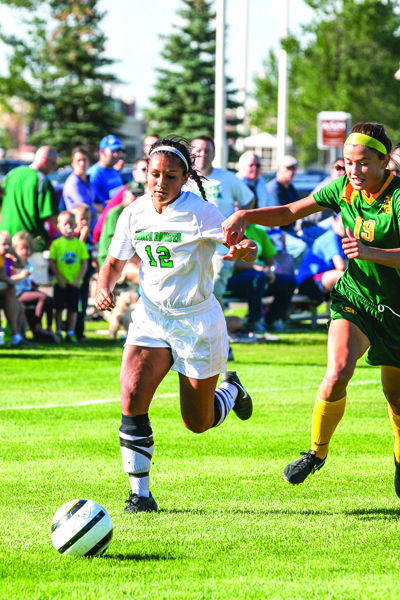 The University of North Dakota women's soccer team ended their historic season in disappointing fashion with two straight Summit League losses.
The Fighting Hawks got off to a record-setting start in 2018. They won five of their first seven games with an incredible plus-21 goal differential. All five of those wins were shutout victories for UND, including an awesome 12-0 win over Alcorn State on the road in Mississippi. Their first two losses were both in nail-biting fashion. The first was in a 0-1 loss to Bemidji State, the second was also in a 0-1 loss, but this time the defeat was at the hands (or feet) of Portland.
After UND's 5-2 start, the team would slow down a little as the competition stiffened in conference play. They would play in three straight close games and fail to come away with a win in any of them. The first was a loss to North Dakota State with a final score of 1-2, the second was a tie at Omaha with a final score of 1-1 and the third and final game of the skid was at Denver with a final score of 0-1.
The Fighting Hawks would get back on track with a 7-1 statement win over Purdue Fort Wayne on Oct. 21 before they closed the season against both South Dakota teams. Stand out senior Katie Moller contributed four goals and one assist in the rout while impressive freshman Olivia Knox added two goals of her own.
UND would now face their biggest challenge of the season, ending the year against two talented teams from South Dakota with a Summit League playoff berth on the line.
The first game, against the extremely talented SDSU team, would test the Hawks in ways they haven't been tested all season. SDSU forward Marisa Schulz got the scoring started with a goal in the 50th minute. Not too long after that, UND tied the game up at one goal apiece with a clutch penalty kick from Katie Moller in the 75th minute. Neither team scored again in regulation or the first overtime. The second overtime, however, was a different story.
In the 110th minute of a grueling contest, SDSU's Darien Poelstra ended the game with a goal assisted by Marisa Schulz.
"Defensively we did fine, especially in the second half," head coach Chris Logan said after the game. "Offensively today, we were just off for whatever reason. We just didn't have a great day in terms of our attack. Obviously, Katie scored the penalty but outside of that, we weren't really overly efficient and strong up there, but sometimes that just happens. It's the nature of the game."
Unfortunately, UND would fail to bounce back two days later on the road against South Dakota, losing their regular-season finale with a final score of 0-1.
Despite failing to qualify for the Summit League playoffs, the Fighting Hawks still had an extremely impressive season. They finished with an overall record of 9-6-2, which means they set their team record for Division I wins.
As far as individual accolades go, Katie Moller was named the Summit League offensive player of the year and Olivia Knox was named to the Summit League Freshman Team.
Despite a disappointing end to the 2018 season, the UND women's soccer program is definitely trending in the right direction.