The Construction Pandemic
With the hectic 2020-2021 school year behind them, students have returned to the University of North Dakota with a new energy for the upcoming school year. The dorms are packed, Greek chapters are playing games on their lawns, and students are doing their best to make their way to classes during these first few weeks.  
As inviting as campus should be in mid-August, especially with the reintroduction of in-person activities, students are quickly becoming frustrated with the current state of the UND campus. Construction continues along half of University Avenue and Columbia Road, making commute difficult for students and staff. Construction was expected to be completed by the first day of school, but workers are still appearing on site every day and look to be staying for a while longer.  
Students are questioning why their return to campus seemed the best time to undergo construction that disrupts university operations, instead of during the summer months when campus was vacant. With no additional parking services offered this year in comparison to previous years, the new construction makes the limited parking situation on campus even more difficult. The majority of students choose to park in the lot on the west side of Columbia road, which offers the most space for student vehicles. However, this places the construction sites right between student parking and their class locations. Almost all of the sidewalk and crosswalks in the area have been shut down, including many of the underground pedestrian tunnels. Off campus students are finding it hard to rearrange their routes to avoid walking through any construction.  
This is also posing a problem for a majority of the students that live on Greek row. With a number of sororities and fraternities being located near or on the construction site, Greek executive members are growing concerned about how this will affect recruitment efforts this year if the issue is not resolved. Currently, any student who lives on Greek row is expected to find alternative travel routes to campus. Upcoming sorority recruitment will be taking place from September 10th-13th this semester and requires registrees to travel in groups on foot to the facilities for conducted house tours. Travelling between houses quick enough to be on time for their recruitment rounds will prove to be an interesting task if the construction has not been completed by then.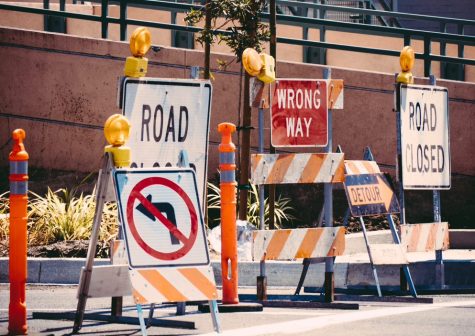 The construction separating campus from Greek Row has also become a growing threat to those residing in the dorms, freshman in particular. With the first few late night weekend activities prevailing on Greek row, students from the dorms are tempted to walk through the construction to visit their friends. Groups of students have been witnessed taking short cuts late at night through the construction zones amongst the mud and equipment, instead of travelling to the lengthy detours.  
With concrete planned to be poured this week, hopefully the clean-up can be conducted quickly as to not disrupt Greek recruitment and the safety of travelling students as they readjust to life back on campus.  
Brooke Kruger is the Dakota Student Editor-in-Chief. She can be reached at [email protected]