Trivia Takeover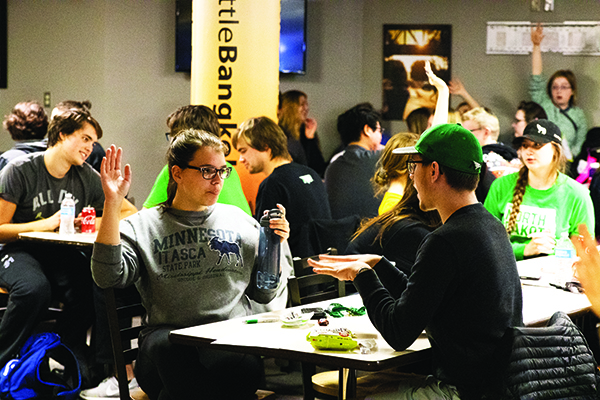 Noah Sell, Arts & Community Writer
November 6, 2018
Trivia Takeover is a trivia event hosted by the university every couple of weeks, the topics are chosen from popular media. Past themes have included Disney, the television show Friends and most recently the book and movie series Harry Potter.
Each trivia night attracts dozens of teams of like-minded students who are ready to show how much they know about their favorite topics. The first night of trivia this year actually had to change venues in the Memorial Union because there were so many participants, it posed a fire hazard.
The groups start by picking out a team name while waiting for the questions to start. The trivia consists of three rounds of seven questions each, with the questions in each consecutive round increasing in difficulty and point value, then finishes with one final question that teams wager their points on to determine a winner. The winners typically receive gift cards to Target or the UND dining centers.
The theme of this past Trivia Takeover on Tuesday night was Harry Potter and the night's match resulted in a nine-way tie for second and third place. After the tie-breaker, Allison McGauvran shared her thoughts on Trivia Takeover.
"Trivia night is always fun because it brings students together over a common interest," McGauvran said. "They're all topics that are very popular or well-received among this generation of students. And they have free food and stuff which is always a plus."
It wasn't all praise from McGauvran, though, as she criticized the authenticity of some of the questions and their answers.
"I feel like whoever came up with the questions didn't entirely know about Harry Potter, like they just Googled Harry Potter questions and were like 'oh this is good,' but with the first one, no one knew what he was getting at. Only three teams got it right and that basically determined who won the whole thing," McGauvran said.
McGauvran explained how the tie was broken since it seemed that the teams all seemed fairly matched in their knowledge of the topic.
"They had a bonus question at the end that was real tricky. It was a bit irrelevant to Harry Potter, but since everyone in there knew so much about it, it was the only way to get someone to win. It was like 'what was the population of London in 2013?'"
At that point all you can really do is try your best to make an educated guess since there probably weren't an abundance of people in attendance who were particularly knowledgeable about populations of major cities in foreign countries.
"So our team guessed eight million, and then it was announced that the winner of second place got the closest answer with eight-point-one million so me and my little team started packing up our things to go, but then it turned out that we were the next closest and got third place."
This was the first night of trivia that McGauvran had been a part of winning, so she was fairly proud of herself and her team, especially after the near-loss.
"I always think trivia nights are super fun, but I particularly liked this one because I actually know a lot about Harry Potter. I know a bit about Friends, not quite to the extent as I know Harry Potter, but other people may know Friends more, so there's something for everyone. But we had a lot of fun and in the end that's really the whole point."
The next Trivia Takeover will be themed around The Office and will be held on Tuesday, Nov. 27 at 7 p.m. in the Memorial Union.