Chase-ing the money
Student body treasurer charged with embezzlement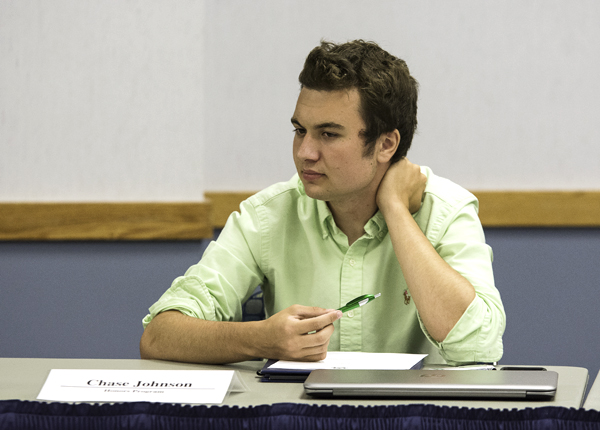 Chase Johnson, student government treasurer, was arrested Thursday night for misapplication of entrusted property and is being held at the Grand Forks County Correctional Center.
According to the University of North Dakota Police Department, Johnson was arrested and charged with a class B felony after allegedly embezzling between $10,000 and $50,000 from his fraternity. Johnson is the former treasurer of Phi Delta Theta.
According to Phi Delta Theta, the chapter reported these accusations to police.
Cole Bachmeier, UND Student Body President, said there is no reason to believe his former treasurer had been tampering with student government funds. The Student Government has a budget of roughly $550,000.
"We're doing our due diligence and even though, like I said, there's no reason to believe there's been misappropriation we've sent it through internal auditing and we'll just make sure," Bachmeier said.
Bachmeier has previously served as president of Phi Delta Theta. According to the Grand Forks Herald, he is listed as a witness for the prosecution.
About a month before the arrest, a student government official met with the Dakota Student regarding allegations regarding Johnson. In this meeting, the official was asked if student government was aware of the allegations against the treasurer and certain specifics regarding the accusations.
It is unclear whether or not Phi Delta Theta President Eric Gefroh had discovered some of Johnson's alleged purchases in old boxes under a different name. The Dakota Student acquired this intelligence via a tip from someone familiar with the allegations. Despite the source alleging the student official was aware of the accusations and the circumstances, the student official did not respond to questioning.
Johnson, a senior, was a heavily involved student. In 2016, Johnson served as Vice President of the Interfraternity Council (IFC). According to the IFC Fraternity and Sorority Life webpage, the treasurer position was vacant during Johnson's term.
During his time at UND, his positions and experiences commonly involved university funds and or other financial reserves.
Johnson has served a role in the UND Student Government since 2015, when he served as the Honors Program Student Senator. In this position, he played a fundamental role in bringing Uber to Grand Forks and wrote a bill to spend $3,000 from the Student Government General Account Fund "to introduce a marketing campaign supporting Uber." This bill passed in November 2015.
In his Senator role, he authored a number of bills which included refunding and or altering the bylaws of the Student Organization Funding Agency.
His Facebook page consists of regular posts and pictures regarding political and social work he was regularly involved in. He also posted his former positions as Government Affairs Commissioner at UND as well as an internship for Congressman Kevin Cramer.
The preliminary hearing and or arraignment for Johnson is scheduled for April 4.
Jacob Notermann is a news writer for the Dakota Student. He can be reached at [email protected].