UND Writers Conference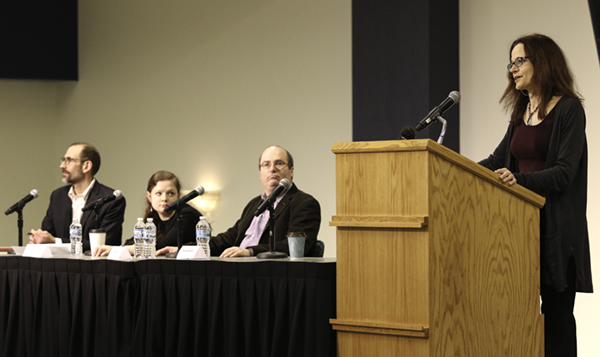 As we trudge through a grey and temperamental spring, there is a bright ray of sunshine that the community of Grand Forks looks forward to every year: The UND Writers Conference. Amidst the snow and wind students, UND faculty and community members all flock to the three day conference to participate in stimulating conversation and the celebration of the arts.
This year is the 49th Annual UND Writers Conference with the theme of "Truth and Lies." This year's featured authors and artists were Molly McCully Brown, author of "The Virginia State Colony For Epileptics and Feebleminded"; Nicholas Galanin, "a multidisciplinary artist whose work offers perspective rooted in connection to land and an intentionally broad engagement with contemporary culture," according to the Writers Conference website; David Grann, author of "Killers of the Flower Moon: The Osage Murders and the Birth of the FBI"; Marlon James, author of "A Brief History of Seven Killings"; Lauren Markham, author of "The Far Away Brothers: Two Young Migrants and the Making of an American Life"; and poet Ocean Vuong, author of "Night Sky with Exit Wounds."
Professor Crystal Alberts of the English Department is the director of the Writers Conference. Alberts has been working with the Writers Conference since 2009, undertaking the massive job of organizing students, reserving venues, inviting authors and artists, promoting the event and much more.
"I have the next two (conferences) outlined," Alberts said. "Usually what happens is I try to think about new things that we might discuss without necessarily duplicating ideas from the past. I try to look around and think about what might be interesting to discuss, what is relevant to the area, what might be attractive to my broad demographic and I do, as someone who studies contemporary literature and culture, I read a lot of everything and try to think of what the next thing might be. Sometimes I start with an author or theme and just go from there."
As I attended the many events of the conference, the theme of "Truth and Lies" was prominent in every event. Whether it was in a Grand Challenges Symposium panel discussing climate change or in a panel with the featured authors/artists speaking of art and justice.
With the theme of truth and lies, Alberts could have gone in many directions with panel discussions and had a wide range of authors and artists whom she could have invited. I asked her how she narrowed down her options to just five or six featured guests.
Alberts said that she starts writing grant proposals for the Writers Conference two years in advance. Grants for the Writers Conference is key for not only sponsoring the event and securing a venue but paying for the featured guests to come and speak.
"In June, I usually create a rough sketch of who might be at the [future] conference," Alberts said. "Sometimes I have a particular work that I might be interested in and in order to make it cohesive I have to have an idea of how all the works interconnect while also covering a number of genres. So it's reading, thinking about major topics, looking at interviews, book reviews and thinking of how all the pieces might fit together. As it (the conference) gets closer, I will start thinking of authors and who's available. A lot of times a lot of the people I consider inviting haven't even been published yet because we are always looking for emerging authors."
To be director of the Writers Conference is a colossal enterprise. Yet Alberts succeeds at producing a phenomenal conference year after year in addition to teaching excellent classes. Running the event with ease does not come without its difficulties.  
"Probably one of the most difficult things is that I have a broad demographic. We are free and open to the public, which means there are elementary and high school kids here, all the way up to those who are in their 70s and 80s from the community, alumni, faculty, staff, students from here and other universities….trying to find authors/artist that will appeal to an audience that will bring people in and finding the money that will make that possible. In addition to having all the featured guests all available at the same time"
The Writers Conference is an epicenter of literature, culture and art. It is run on grant money and the donations of the community. I volunteered at the information desk for the Writers Conference and was thrilled to see an abundance of people donating to the Writers Conference.
I asked Alberts if authors/artists are receptive to coming all the way out to Grand Forks, North Dakota to come to our Writers Conference. Alberts said that authors/artist are very receptive to attending the conference. Over the years the UND Writers Conference has gained an overwhelmingly positive reputation and many authors/artists and their agents have already heard of the conference.
"In the literary world, things get around and we try to keep our reputation as being very respectful of the authors and the artists and that is something beneficial to them as well," Alberts said.
Next year is the 50th Annual Writers Conference. I had such a wonderful time at this year's Writers Conference I couldn't help but ask for hints on what next year will be like.
"It's our 50th Annual Writers Conference, our Golden Anniversary, the theme is 'What the Future Holds'…there was a huge spike in Ray Bradbury's 'Fahrenheit 451' and sales in dystopic fiction was being bought out and more was being written. I am thinking along those lines but it gets to be apocalyptic and depressing so I am looking at dystopic literature but also utopic literature, something that is hopeful, and consider some afro-futurism but I am not quite sure how it will all come together yet."
Unfortunately no news yet on who will be featured at next years Writers Conference so we will have to keep an eye out for the announcement.
For more information on the Writers Conference and how to participate or donate please see their facebook page: www.facebook.com/UNDWritersConference or their website https://und.edu/orgs/writers-conference.