Mitten made
Christian Wolanin's hot start to his junior season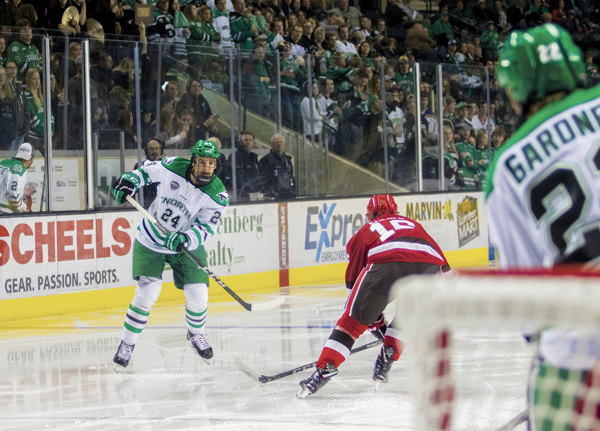 The electrifying, risk-taking and emotional defensemen Christian Wolanin has finally come into his own this season for the University of North Dakota Men's Hockey team. The 6'1 offensive defensemen from Detroit, Michigan is currently in the midst of his junior season at North Dakota, and he has finally become the player he wants to be.
Wolanin came to North Dakota in 2015 after playing three seasons in the United States Hockey League. In the USHL, Wolanin boasted 75 points during his three seasons, playing for the Green Bay Gamblers and the Muskegon Lumberjacks, where Wolanin was granted the alternate captaincy.
After Wolanin's final season in the USHL, he was drafted by the Ottawa Senators in the fourth round of the 2015 NHL Entry Draft.
Wolanin came to North Dakota as a young defenseman looking to make a name for himself, but had to deal with playing with a deep defensive core.
"The tradition and wanting to win a National Championship," Wolanin said when asked about his decision to commit to North Dakota.
Wolanin played as the fifth or sixth defensemen his freshman season, and sometimes being benched as the seventh defensemen because the team had tremendous depth.
"It sucks pretty bad," Wolanin said. "But, that is what every player has to go through. But, for me being able to learn from players like Troy Stetcher, Gage Ausmus, Keaton Thompson and Paul LaDue, it was truly a blessing being able to come in and learn from those guys for two years."
Wolanin possessed such offensive skill, Head Coach Brad Berry and his assistants put Wolanin at forward on the fourth line for some games because he is a difference maker on the ice.
"It was tough not playing forward since my days at home in Midgets," Wolanin said. "But, it was fun to just be in the lineup. Any chance you get to be in the lineup is an honor, and it's a lot better than sitting in the stands in your suit. If they wanted me to play forward, I'd play forward. And if it happens this year, I'll gladly stay in the lineup and help out."
Wolanin has earned his way up to the top pair defense over his years at North Dakota, learning from players such as Ausmus, LaDue and Stecher.
"Learning the daily things, how hard it is to come into college hockey, and show up every night no matter who we're playing is what I will take most from them," Wolanin said.
Wolanin is a polarizing player for the fans of North Dakota. His risk-taking play and offensive ability is perhaps Wolanin's biggest asset, but also can be his biggest weakness.
Fans have had a love/hate relationship with his style of play over Wolanin's tenure at North Dakota. Fans have never held back their emotions during the game when it has come to Wolanin's play, always yelling "Shoot!" and "Hold the line Wolanin!" during the games, especially on the power play.
"You can play for me, if you think you're better than me," Wolanin said. "I love our fans. We are lucky to have fans who care so much, that they are even willing to go out of their way to say something negative. But, that is just passion and what you play for."
This year, the student section has started the chant "We love Wolanin!" when Wolanin has the puck on the power play. Fans will never be satisfied with the play, but that is to be expected at a diehard hockey school like North Dakota.
"I haven't noticed the new chant," Wolanin said. "But, tell who ever started that one thanks from me, I really appreciate it."
Wolanin is taking everything in and trying to constantly improve his game. His confidence is unmatched on the ice. Wolanin's role has increased tremendously, basically quarterbacking the play at all times when he is on the ice. With the added responsibility on Wolanin, he is still looking to become better.
"I think that I can improve on being the best I can be every night," Wolanin said. "It is one thing to show up on Friday and be a standout defensemen, and then show up on Saturday and be not as good."
Wolanin is a key piece in the puzzle for North Dakota to become NCAA National Champions once again. Wolanin and the team understand the road to the National Championship is long and difficult, but are up to the challenge.
Kyle Kinnamon is a sports writer for Dakota Student. He can be reached at [email protected]