"Disappointed and Disgusted"
Journalist Mark Trahant to leave UND in May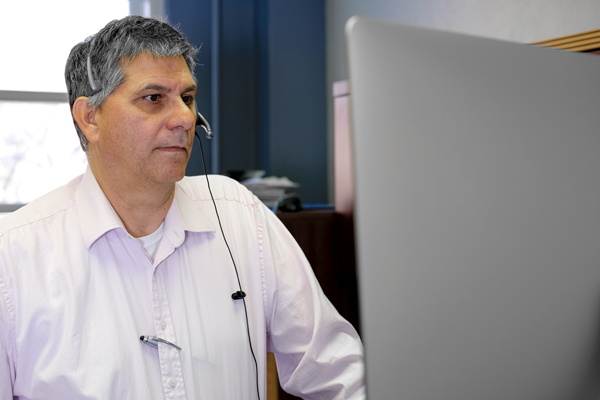 On Thursday, Oct. 26 Mark Trahant of the Communications Department announced via Facebook that he would be leaving his position as endowed chair at the University of North Dakota.
"I am disappointed and disgusted that the university is not an institutional leader in this state," Trahant said in his online post.
Trahant went on to say his main reason for leaving the university was that he had tried to organize university events that addressed the continuing issues between Native Americans, protesters and the police at the Standing Rock Reservation in western North Dakota, but had been denied.
Though conferences and events could be stalled and cancelled for a number of reasons, Trahant said he was told in the past that an event like the one he was proposing "wouldn't be in the university's interest" due to the "hotness of the topic."
In his online announcement, Trahant's said there were "senior administration fears that the (North Dakota) legislature might retaliate."
In an email addressing Trahant's announcement, Interim Vice President of Public Affairs Peter Johnson denied that the administration had any fear of legislative retaliation and the President's office had no knowledge of Trahant's proposed events until his Facebook announcement.
"The Dean (Debbie Storrs, Dean of the College of Arts and Sciences) basically said she was responsible," Trahant said. "But I'm not sure I believe that."
Timothy Pasch, Chair of the Communications Department, said that budget constraints factored into the decisions made regarding Trahant's proposed events as much as anything else.
"My Dean is exceedingly supportive of Mark Trahant, and of the Department of Communication," Pasch said. "At the same time, it is a known issue that the College and the University have undergone enormous budgetary restrictions and reductions in the past several years."
 Though Trahant still plans to leave his post at the university when his term is up in May, since his announcement, he has been tasked with organizing the spring Haggerty lecture, which will now focus on the events occurring in Standing Rock.
"I am very excited by the initial conversations I have held with Professor Trahant regarding the scope and range of this event that he is leading, and it is my hope that this event will be far-reaching with national coverage," Pasch said.
The lecture will feature journalist Jenni Monet as a keynote speaker. Monet has been very active at Standing Rock and was famously arrested for criminal trespassing while covering the story.
Trahant said he is hopeful that this conference will help UND become a stronger leader in public discourse and set an example for campuses across the state, particularly on issues that affect the Native American community.
"You look at how quickly the country is changing," Trahant said. "And North Dakota's not part of that."
Diane Newberry is the news editor for Dakota Student. She can be reached at [email protected]