Sexual assualt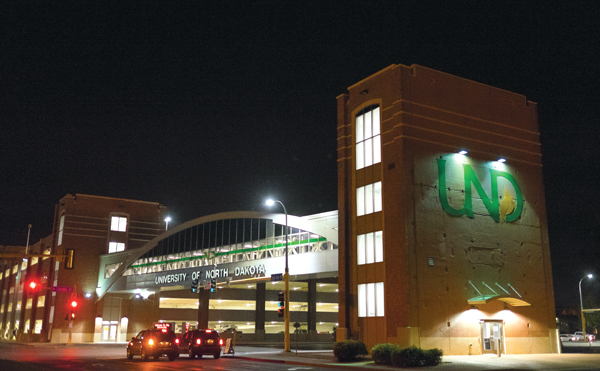 On January 6, University of North Dakota students still scattered across the country for winter break were alerted by mass email to an attempted sexual assault in Noren Hall.
The federally mandated "timely notice" came with a brief description of the incident, in which two unknown men had gained access to a dorm room and attempted to remove the female victim's clothes, and a description of the suspects and their vehicle. At the time of the email notification the suspects were still at large, but have since been caught.
"We have identified both suspects," Detective Carlos Caro of the University Police Department (UPD) said. "One is in custody and one is pending criminal charges. We are good there. We got them."
The incident was unusual both in its dramatic nature and timing and might raise some questions regarding dorm safety, particularly during breaks when dorm capacity is extremely low. This was only the second year that students staying in the dorms over break could remain in their usual rooms as opposed to being congregated into one dorm building.
However, dorm security over break is not lessened, with Resident Advisors (RAs) on duty 24 hours a day and the UPD still conducting random walkthroughs of the facilities. Maria Draper, former RA of Noren Hall and current Resident Manager with the UND Housing Office, says that one of the biggest problems facing the dorms is an easygoing culture amongst students regarding entry.
"Theoretically, the dorms are completely safe," Draper said. "The doors all lock and when they don't, they are taken care of immediately so that they do. People getting into the halls who aren't supposed to be there – I think that's definitely our Minnesota and North Dakota nice attitude where it's like, 'Oh, you know, someone wants to get in. I'm just going to open the door and let them in.'"
In mid-December the UPD requested the housing office send out a notification to students to lock the doors to their rooms in light of a rash of burglaries. The police believe the fact that some doors in Noren Hall were left unlocked directly lead to this attempted sexual assault.
"In my opinion, I think this was – I hate to say this- almost like a crime of opportunity," Caro said. "Had they not been able to gain access to the dorms, or had the doors not been unlocked, I don't think this would have happened."
In addition to the "timely notice" email, the UPD also posted information regarding this most recent incident on their social media pages, a tactic they say has been a great deal of help in the past.
"We can't be everywhere all at one time," Lieutenant Danny Weigel of the UPD said. "We understand that with policing, it has to be a partnership between both the community and the police department."
According to the UPD, information gathered from social media tips were the biggest breakthrough in this most recent case.
"Each little tip we get, we can step back and start putting a picture together," Caro said.
In terms of preventing future crimes of this nature, Caro stressed that students must scrutinize unknown persons attempting to get into the dorms, and said that this incident has led to discussions of whether to implement stricter security guidelines on dorm entry, such as having a designated person to check identification and verify that people entering dorm buildings have legitimate reasons for being there. Caro said suggesting these practices, which were last implemented on campus fifteen to twenty years ago, has been met with "mixed reviews."
Diane Newberry is the news editor for Dakota Student. She can be reached at [email protected]