"Kennedy says he may leave UND to serve as university president in Florida"
The University of Central Florida will announce their president-elect March 9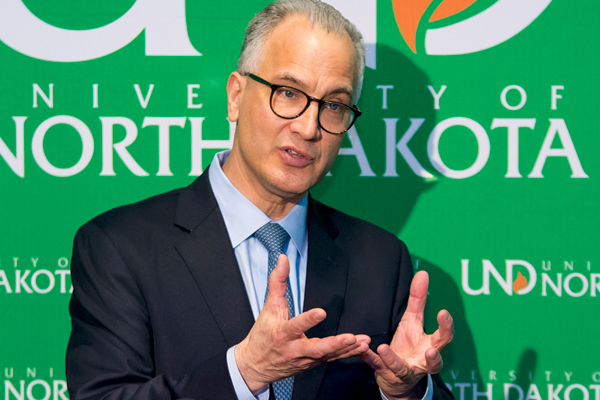 President Mark Kennedy sent an email to University of North Dakota faculty, staff and students this morning alerting them to the possibility that he will leave UND for the University of Central Florida (UCF).
Kennedy's announcement came after the UCF Presidential Search Committee released his name, along with seven others, as semifinalists in the search for the school's next president. The UCF Board of Trustees will vote to name a president-elect on March 9.
"I remain focused on my duties at UND and would very much look forward to continuing to work with the excellent team at UND to advance our One UND Strategic Plan if not selected by UCF," Kennedy said in his statement.
There has been speculation in the past that Kennedy did not plan to stay long in his current position, though given his experience as a Minnesota representative in the U.S. House (2001-2007), many assumed he might transition back into politics.
Student Body Vice President Erik Hanson said student government was "just as surprised as the rest of (campus)" about the email. However, he remains unphased by the news.
"If it doesn't pan out then we get to continue with our president," Hanson said. "I think this is more he's testing the waters and I don't think it's something we should be too alarmed at."
The announcement has come as a shock to the UND community, Kennedy having only served as university president since July 2016. If selected by UCF, Kennedy would be replacing President John C. Hitt, who has been in his position since 1992.
Diane Newberry is the news editor for Dakota Student. She can be reached at [email protected].