Will they take it?
Bringing the Mason Jar Project to Grand Forks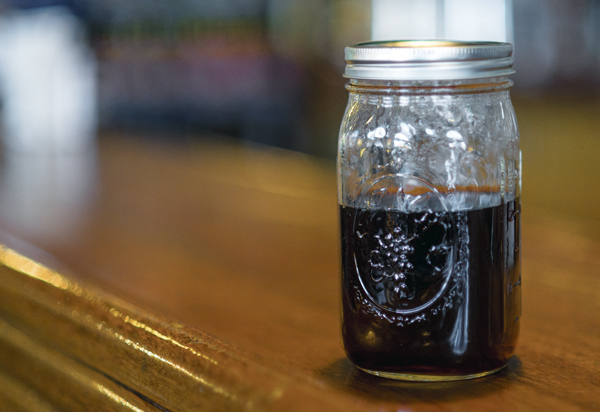 While searching the vast depths of the internet, I stumbled across a blog titled "Trash is for Tossers," written by a woman living in New York named Lauren Singer. I continued to read Singer's blog, and she mentioned that swapping out disposable plastic and paper cups for reusable mugs are a simple and effective way to help reduce a person's carbon footprint.
As I contemplated this thought, I wondered how many area coffee shops would be receptive to a reusable substitution instead of a disposable cup. I made a list of six coffee shops, brought six clean mason jars with me and set out to investigate.
Stop one: Bully Brew
The barista accepted the mason jar and began to ask questions about the project. I explained what I was doing and she stated that it was interesting, then handed me my drink and I left. Will they take it? Yes. They took the jar and were more than happy to save the environment.
Stop two: Caribou Coffee
The mission of Caribou Coffee, as found on their website states that "While coffee is our passion, 'Do Good' also focuses on addressing recycling, water conservation, waste reduction and energy efficiency in our coffeehouses." I walked into the establishment and was greeted with an enthusiastic "Yes," when I offered my mason jar.
"We actually do a lot of promotions for customers who bring in reusable mugs," Nina Piccolotti, a barista at Caribou said. "This month, we had a special breast cancer awareness mug where proceeds from the mug would go towards breast cancer research."
Stop three: Starbucks
I made the stop during the afternoon coffee rush hour and they were more than happy to receive my mug. Starbucks also encourages its customers to bring a reusable mug with them to help reduce the amount of disposable paper cups that are sent to the landfills.
Stop four: Archives
One of my mason jars broke, so I brought a reusable coffee mug instead. They gladly accepted my mug and the barista informed me that they were also committed to using fair trade and ethically sourced coffees and teas along with reusable mugs.
Stop five: The Ember
They are another coffee shop that is committed to serving ethically sourced coffees and teas and accepted my mason jar. When I asked if they see many students bringing reusable mugs, the barista remarked that while they do not see many students using reusable mugs, they do see students opting for a ceramic mug to use inside the building.
The final stop: Urban Stampede
Based on the results from the previous five coffee shops, I was expecting them to accept my mason jar. "People bring in their own mugs and use them while they are here. We have a lot of recycling that we take out too." Ramsey Hoey, the barista that served me, said, "We care about our environmental impact and make sure we use sustainable options."
My heart was happy and I left the establishment with a mason jar of coffee to warm my cold hands.
For the environmentally conscious student, simply swapping out a paper or plastic to go cup with a mason jar or a reusable coffee mug while helping to reduce a student's carbon footprint.

Devon Abler is an features writer for Dakota Student. She can be reached at [email protected]