Nursing students educate the community on prescription drug disposal
Memorial Union hosts "Got Drugs? Pitch Your Pills" event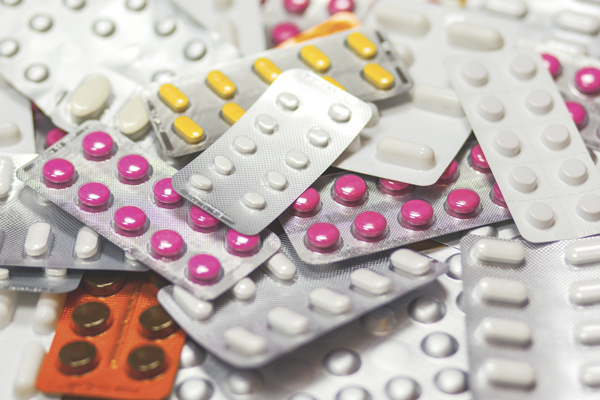 Jacob Notermann, Staff Writer
November 1, 2017
Hang on for a minute...we're trying to find some more stories you might like.
In the wake of the national opioid epidemic being declared a public health crisis, students at the University of North Dakota took action on the issue.
Last Thursday, a class of 12 clinical nursing students held an event promoting proper protocol for disposing old or unwanted medications.
The event "Got Drugs? Pitch Your Pills" was housed in the Memorial Union, where students and the community at large partook in an educational and environmental cause.
Paige Salwei, a third-semester nursing student, was one of the students running the event. She said her public health course set up the "group intervention project" in order to promote public health in the community.
"It's a major event, especially with children in the home," Salwei said. "Often, the most common issue is the access for children getting their parents' medications or digging through the garbage and then that can lead to more harmful events such as drug overdose or toxic effects."
Carlee Miller, another third-semester nursing student, said turnout for the event was higher than anticipated.
The surrendered medications were handed over to the University Police Department, which was then submitted to the medication drop box that can be regularly found at the University Police Department.
"Oftentimes, people just aren't aware that you don't want to just throw your pills in the garbage because that can result in drug-seekers going through your garbage, which is a problem," Miller said. "I think a lot of people just don't think about the proper way, and then they just fill up in their medicine cabinet. When they do think about it, they just throw them away. And that's dangerous."
She went on to mention the environmental impact not properly disposing medications can have, including medications tampering with the city's water supply and animals consuming them while going through garbage cans.
"With the opioid crisis going on in the community, that's been a big reason as to why we felt that this was an appropriate event to hold and educate people about," Miller said. "And then we also have information about other locations people can drop off medications."
For those who missed the event or want to properly dispose old medications in the future, there are do-it-yourself methods. Some include mixing all of the unwanted pills with wet dirt, kitty litter or coffee grounds in order to dissolve the contents. All of the important information on the bottle labels should then be blacked out with a permanent marker.
"A lot of the information isn't really brought to the forefront of people's minds unless they see statistics and see people actively participating in events like this," Salwei said. "I feel it's been really impactful as a student to see all the hard work you put in towards something that's such a serious cause in our community today."
The event wasn't only informative regarding medications. It also served as a mechanism for nursing students to show the impact nurses have on the community.
"A lot of people don't realize that this is something nurses do, necessarily," Miller said. "I think people think of nurses in the hospital setting, but just bringing awareness that nurses are involved in all areas of health and that public health nursing has a very widespread outreach in the community."
Salwei said the event was a great learning experience for those on both sides of the counter.
"We each had a part in organizing advertising and all the logistics of the program to see what it would be like as a public health nurse to advocate for your community and for the safety and the environment," Salwei said.
Other local medication drop-off sites include the Grand Forks Law Enforcement Center and the East Grand Forks Police Department. Both of these locations, as well as the University Police Department, will accept the pills at any time.
Jacob Noterman is an news writer for Dakota Student. He can be reached at [email protected]