Take Back the Night
It's On Us week begins with Monday night rally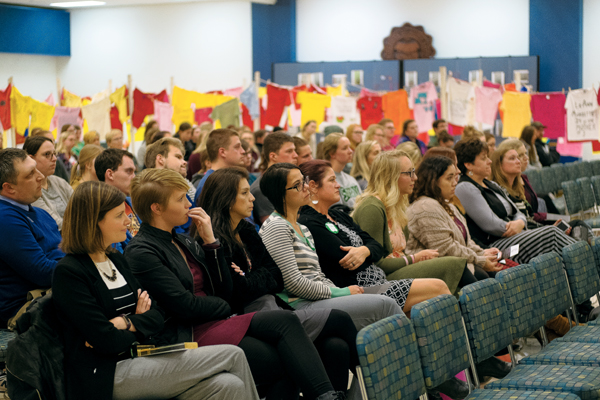 On Monday night, members of the UND community gathered together in the Memorial Union Ballroom to show solidarity for survivors of domestic abuse, sexual assault and rape. The UND Women's Center and the Community Violence Intervention Center (CVIC) hosted the event. Two survivors shared their stories with over one hundred people, asking the community to work harder towards taking preventative measures to reduce violence against women and children.
Jordan (last name omitted to protect advocate) is the campus representative for CVIC at UND. He is a campus advocate for students who have experienced acts of violence, assault and rape. This shows the community that the task of fighting violence against women is not a role that lands only on women and survivors. It is also a role that men are willing to take on.
"I am an advocate 20 hours a week on campus," Jordan said. "I am on campus all day Mondays, Wednesday afternoons, Thursday afternoons and on Fridays in the morning. Advocacy for students, along with emotional support, includes accompanying them to hearings, assisting them with class changes, attaining no contact orders/restraining orders and assisting them with anything that may follow after an incident of domestic abuse or sexual assault."
According to ND CAWS, there were 1098 primary (first-time) reports of sexual assault in North Dakota in 2016. One in three women will be assaulted in their life, while one in ten men will be assaulted in their life. Out of the women who have been assaulted, only 20 percent will report the incident to law enforcement. Males rarely report cases of assault or rape. Nine out of ten victims knew their offender. These statistics were shown at the "Take Back the Night" rally. Two survivors shared their stories with students, faculty members, community members and Mark Kennedy, the President of UND.
"Even preventing one or two assaults is a major victory in itself," Kennedy said. "It is also important to educate others on how to treat others with the proper respect when it comes to intimate matters. This is why rallies such as the one tonight matter."
The university has stated they are committed to ending violence within the Grand Forks community and on the UND campus. "It's On Us" is a national campaign that has asked everyone to step up and realize that changing the conversation starts with us.
"It truly takes all of us to work together if we are going to be committed to ending violence within the community and on this campus," Amber Flynn, the Coordinator of Sexual Respect and Violence Prevention programs, said.
While reporting seems like a daunting decision for someone who has experienced trauma, CVIC is here for students who have experienced an act of violence or assault to learn about their options and take the necessary steps to find healing.
"Anyone who works for the university, except for student health and the university counseling center, is mandated to report sexual assault or acts of violence," Jordan said. "Being that I do not work for the university, I am not mandated to report these events, so everything that is said between the student and I remains confidential and I think that service is important because that provides them with a safe place where they are not introduced to a formal process if that is not what they want."
If you have experienced stalking, harassment, sexual assault or rape, please contact CVIC at 701-746-0405, the University Counseling Center, or the National Sexual Assault Telephone Hotline at 800-656-4673. If you feel that you are in immediate danger or a life-threatening situation, please call 911 as soon as possible.
Devon Abler is a features writer for Dakota Student. She can be reached at [email protected]