Poolman's Debut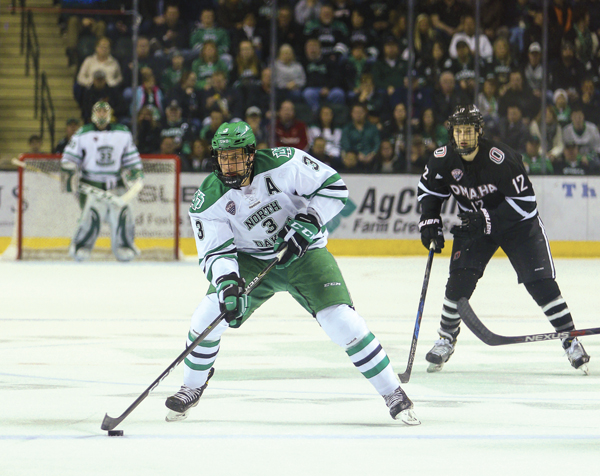 Former University of North Dakota hockey player Tucker Poolman is set to make his National Hockey League debut with the Winnipeg Jets on opening night. Poolman survived the preseason cuts and reassignments to the American Hockey League affiliate Manitoba Moose.
Poolman decided to take his talents to the next level at the end of the 2016-2017 season after playing three seasons at the University of North Dakota. While at UND, Poolman played a strong, physical and smart style of defense that helped UND win its eighth NCAA National Championship.
As the news came out about the Jets' decision to keep Poolman up in the NHL, some of his former teammates were ecstatic.
"I am pretty stoked for him," newly named captain Austin Poganski said. "I have been talking to him quite a bit. We were really close when he was back here, so I think that is extremely exciting and he deserves every bit of the chance he's got. He is going to be a great NHL player."
But no one was as thrilled as his father Mark Poolman, who is an Assistant Athletic Trainer for UND hockey.
"I am proud of his perseverance through the entire process," Mark Poolman said. "All the way from when he was in high school all the way through until now."
While Poolman is currently on the Jets roster, that can change at any point during the season. It's not uncommon to have rookies that go up and down from the NHL to the AHL throughout the course of the season.
While the possibility of being sent down to the minors is very real for Poolman, his former teammates, Hayden Shaw and Austin Poganski, think he will handle it just fine.
"He'll handle it great," Shaw said. "You know that guy, he's just a machine and a freak of nature. So wherever he is, he is going to play really good hockey that's for sure."
"That's pretty normal (being sent up and down to minors)," Poganski said. "Going from college, it's pretty tough to make it right to the NHL. Tucks (Poolman) is a phenomenal player, and I think he deserves to stay up for a while, but throughout your career you might get sent down a couple times. But, he's such a strong kid. He is very mature and handles himself very well, and if he does happen to get sent down I think it will just give him motivation to get that much better."
Poolman can attribute some of his success to the program he spent three years developing in. UND hockey is regarded as one of the top programs in the nation, not only for the program's success, but for the development of its roster into NHL caliber players.
"UND is such a professional program that just shoots guys up to where they need to be," Shaw said. "For (Poolman), he took time and did the extra work. And with all the intangibles we have here, with our coaching staff and facilities, he really took advantage of everything we have her"
Poolman averaged just over 17 minutes a game and had an assist in his six games this preseason with the Jets.
Poolman was a rock-solid defensemen night in and night out during his tenure for UND. Hopefully, Poolman continues his strong play for the Jets or the Moose during his career.
Kyle Kinnamon is a sports writer for Dakota Student. He can be reached at [email protected]