Happy Hippy Feet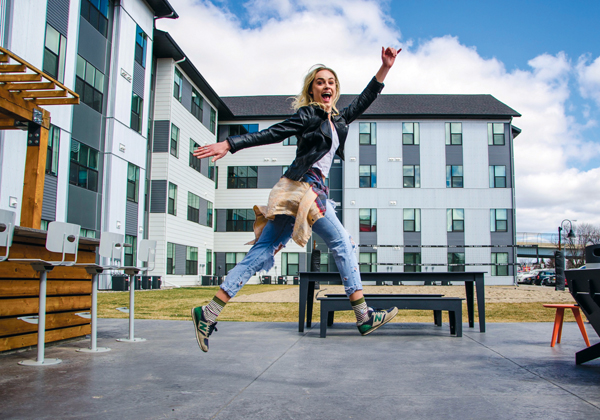 The giving back philosophy has been growing in popularity among students at the University of North Dakota. One organization that has taken the campus like wildfire is the Love Your Melon campaign.
This organization donates 50 percent of all proceeds towards finding a cure for pediatric cancer and donates hats to children going through chemotherapy. These hats can be seen around campus. While it makes sense that hats are a popular option here in a state where there is a perpetual state of bitter coldness, there is another organization that is growing in popularity among students.
The organization Hippy Feet Socks donates a pair of socks to a local homeless shelter for every pair of socks that are bought. Some people may wonder "why socks?"
The Hippy Feet Socks founder, Michael Mader, read about the desperate need for socks that local homeless shelters were facing. Socks are the most requested yet least donated article of clothing at homeless shelters. A basic need that many of us fail to think twice about, Michael loved wearing colorful, patterned socks and felt compelled to find a way to meet the needs in his community.
Starting in Sept. 2016, Michael was able to find funding for the start-up of Hippy Feat through an Ideadvance Grant at the Wisconsin Big Idea Tournament. Within one year, Hippy Feet was able to donate over 5,000 pairs of socks to six non-profit organizations and homeless shelters across the Midwest. It wasn't until Feb. 2017 that Hippy Feet made its way onto the UND campus.
Abby Rogers stumbled across the Instagram page of Hippy Feet, which led her to the website. She emailed Michael asking about volunteer opportunities and suggested bringing Hippy Feet to UND. A month later, the college representation program developed and they were able to host their first Hippy Feet event on campus event in March. Since then, they have hosted six pop-up booths both on campus and within the Grand Forks Community.
"Hippy Feet has impacted the Grand Forks homeless community by donating over 200 pairs of socks to the Northlands Rescue Mission within the last seven months," Rogers said. "We also held a clothing drive for our last event of the spring and we were able to donate 10 large garbage bags packed with men's, women's, and children's clothing."
This organization not only wants to give back to the community, they also believe in preserving the environment.
"Each pair of socks is constructed of environmentally friendly materials and made in the USA," Rogers said.
The socks are made of 85 percent recycled materials that would otherwise be found in a landfill.
"By participating in the Hippy Feet college representative program, students are gaining valuable sales, leadership, marketing and philanthropy experience," Roger said. "College representatives will also get an exclusive insight into the entrepreneurial world by representing a young brand. The events attended and coordinated serve as the perfect opportunity to network and meet influential individuals. The connections you make now can be leveraged in future opportunities, jobs and more."
For more information or any other questions regarding Hippy Feet, contact Abby Rogers via email at [email protected].
Devon Abler is a staff writer for Dakota Student. She can be reached at [email protected]