The true Pride of Dakota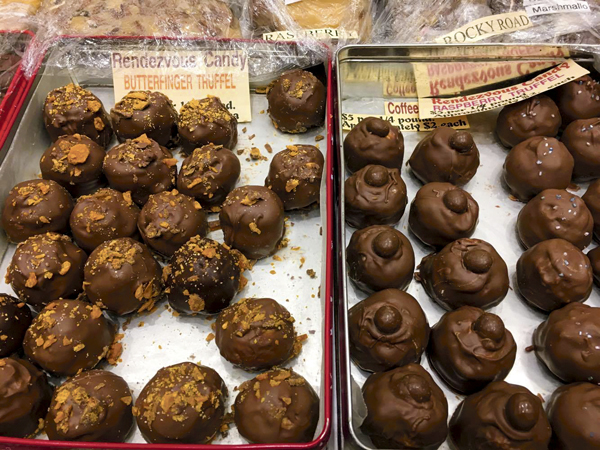 Vendors gathered over the weekend to kick off the holiday season with the Pride of Dakota Holiday Vendor show. From popcorn to mittens to wine, there were a variety of goods created by local businesses throughout North Dakota.
Christmas music played in the ballroom as members of the community gathered together to shop the local goods. Walking through the vendors, there was something for everyone. Children could enjoy handmade wooden toys, adults could enjoy pottery and wine and everyone could enjoy the variety of baked goods and candy sold by many different vendors.
Cheryll Moen is the creator of Rendezvous Candy, a chocolate shop run out of her home in Mayville, North Dakota. Known for her flavorful combinations of fudges, caramel sauces and homemade truffles, her booth started from a one spot and has grown into a two spot vendor.
"In 1988 I started making candy," Moen said. "I've been participating in the Pride of Dakota shows for about 20 years now. I started with chocolate covered caramels and had some jars of caramel sauces."
While walking past Moen's vendor, there are more than ten different caramel sauces, over 20 different flavors of fudge and rows of truffles, toffees and different candies.
Though many people come for small gifts for people to give as Christmas presents, the vendors that receive the most traffic are the food and wine vendors. Grubbersputz is a family owned and run business that has seven different flavors of popcorn.
"We are a family owned business," Chastity Everson said. "We have three people on the road. There are only two people who work in production who aren't family, but we still consider them to be family. My aunt oversees and runs the production of the popcorn and my father is in charge of business."
There were also vendors that sold soaps made from beeswax and honey, vendors that allowed customers to create their own necklaces made from a map with their home town, mittens and decorative wine glasses. There is a reason this holiday show attracts so many people. The vendors that are on display truly are the pride of Dakota.
For out-of-state students who are looking for authentic North Dakota gifts, check out the Minot show that runs for Nov. 11-12. The Fargo show that runs from Nov. 17-19 and the Bismarck Holiday show that runs from Dec. 1-3.
Devon Abler is a staff writer for Dakota Student. She can be reached at [email protected]