Melinda Vail: The medium that makes a difference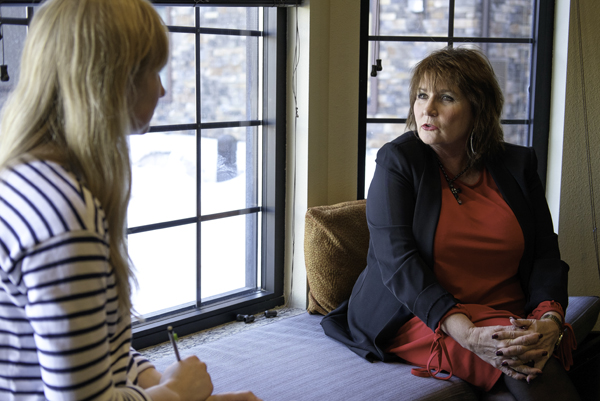 Devon Abler, Arts & Community Editor
April 16, 2018|384 Views
Here in North Dakota, if someone says they are receiving a message from a deceased loved one, there is a high chance that they would be ill for a mental evaluation. For Melinda Vail, an intuitive therapist, hypnotherapist and medium, communicating with those on the other side is just a part of everyday life.
"There are many people who just pop in and out of my energy field," Vail said. "Sometimes someone is just chattering away because they want to communicate something important to a loved one or they want them to know that they are just fine."
With over 23 years of experience, Vail came to Grand Forks for a weekend of readings and teaching at the Gorecki Alumni center. Friday night, she performed live readings for members of the community and Saturday morning she taught a small group about understanding their karmic profile and using that information to break stuck energy patterns in their lives.
"Everyone shares the same purpose in life: to understand your karmic profile and live with integrity," Vail said. "This is based on the energy of the body's chakra system and the kundalini energy that lives in the body. What I do is I look at generational and ethnic patterns in life and help individuals reverse these negative energy patterns."
Known as "the Medium who makes a difference," Vail strives to help people heal from traumatic experiences in life and help families find healing from tragedy. Along with one on one sessions, Vail has also partnered alongside the Phoenix Police Department on cold cases and double homicides.

"The police department is rather ambiguous on whether or not I'm right," Vail said. "They do keep coming back to me so I assume that I'm right on the mark, but they'll never tell you."
Vail is also working on a documentary about the work she is doing in the lives of seven families who have lost a loved one to suicide. She is able to help these families find peace and healing by communicating messages from their loved ones providing proof that there is life after life.
"Life after life means that there is life after this life here on earth," Vail said. "Think of it this way: we have our destiny and our fate. Imagine you are taking a journey from New York to California. California is your destiny. The mode of transportation that you take there is your fate. Each life that we experience is our fate and until we learn all of the lessons that we are given, we will be unable to reach our final resting place."
Understanding what spiritual energy is can be rather confusing to those who are not familiar with the spiritual jargon. Bill Larew, Vail's husband and business manager, explained how this energy works from a scientific standpoint.
"The scientific term is metaphysician," Larew said. "We are able use psychology to see generational patterns and use the past to understand the present, but what Melinda does is she takes the psychological understanding of these generational patterns and applies it to energy patterns. This helps individuals find patterns in their energetic life and reverse these patterns."
Due to the reputation that many practicing mediums have received, a majority of individuals believe there is some form of trickery that occurs during readings. I was invited to observe the live readings that Vail does on her Facebook page, Melinda Vail Medium. She takes random calls from around the world and does readings for these individuals.
Vail relies on specific details the spirits communicate to her. This includes names, dates and specific information that only that individual would know.
"You don't have to be an angel to talk to the dead," Vail said. "I'm not a perfect person. I'm on my sixth marriage and have gone through my fair share of trauma in life. I just know how to tap into the deceased energy field and communicate with them and I use that to help others find healing."
One thing that Vail wants people to know is there are many people who claim to be true mediums by claiming that they have conversations with spirits.

"If people tell you that they talk to spirits face to face and have conversations with them, that's bullshit," Vail said. "I've been a practicing medium for almost 25 years and I have never had a face to face conversation with a spirit. True mediumship is being a vessel for the other side to communicate through, not communicate with."
The story of Vail's journey to becoming a medium can be found in her book "Diary of a Mad Medium, A Guide to Understanding Karmic Profile." In the book, Vail is transparent about her life and uses her story to help others understand karmic profiling. A quick and easy read, Vail is unafraid to talk about difficult things and writes with wisdom.
If there is anything that Vail would like people to know, it is this. You all have your own ability and power to achieve the gifts that the spirit has given you.
Devon Abler is the A&C editor for Dakota Student. She can be reached at [email protected].