Wizard of Oz at the Burtness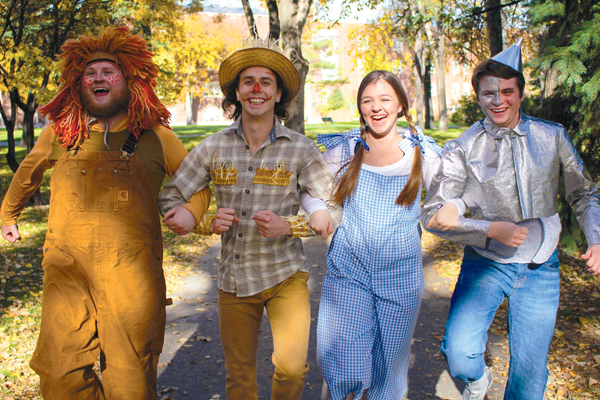 Burtness Theater was transformed into a humble farm in the middle of the plains of Kansas over the weekend. Students in the University of North Dakota theater department transformed this farm into the magnificent land of Oz, taking the audience members along for the journey.
The farm hands transformed into the Tin Man, Cowardly Lion and Scarecrow, Aunty Em transformed into Glinda the Good Witch and Dorothy was accompanied by Toto, played by a dog named Lucy. The Munchkins were played by children from the community, delighting the crowd with colorful costumes and the cuteness that only a child can bring.
This was one of the theater's most anticipated shows, with performances selling out night after night. While watching the performance, the UND pit orchestra was not as strong as it had been in the years before. It also appeared that the vocalists were vocally fatigued. However, that did not stop them from bringing the magical experience of traveling through the Land of Oz to the audience.
There was wit and sarcasm scattered throughout each scene, making this show for all ages. Scenes were built with care and snow fell from the sky to announce the arrival of Glinda the Good Witch. For the Wicked Witch of the West, the theater department utilized a fog machine, blowing fog throughout the stage. Strobe lights were also used during the tornado scene, so individuals who have seizures should take caution when viewing the show.
Overall, this was a production that was thoroughly entertaining and captivated my attention from the opening scene. Will Dorothy ever make it back to Kansas? You will have to find out November 16, 17 and 18 at 7:30 p.m. at the Burtness Theater. Tickets are $10 for students and $20 for adults.
Devon Abler is a staff writer for Dakota Student. She can be reached at [email protected]