Community over coast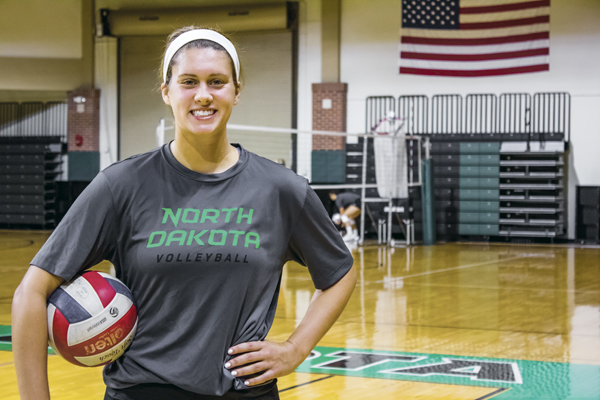 Ashley Brueggeman had once not even considering UND as a school to further her volleyball career. Today, she is now an integral part of the volleyball team and was recently named MVP of the UND classic. In addition, Brueggeman has helped UND start the season 12-1 and boast a current win streak of nine games.
Brueggeman can attribute much of her success to her mother, Tiffany. Tiffany played Division III volleyball, and started Brueggeman young in the game. Brueggeman's excellent performance is nothing new for her, she has been a dominate player since her days at Eden Prairie High School in Eden Prairie, Minnesota  Brueggeman's recent performance can be attributed to her chemistry with Tamika Brekke and her sister Paige Brueggeman. The three have played together since their days at Eden Prairie.
When it came to picking a school to play for, Brueggeman had one thing in her mind. Warm weather. "I wanted to go to the coast, and I wanted warm weather" Brueggeman said.
She was convinced by head coach, Mark Pryor, to at least come visit. And that visit is all it took.
"Once I visited UND, I fell in love with the school," Brueggeman said. This love for UND is still going strong according to Brueggeman. After her freshman year, she still loves UND, and cannot wait for the next three years. "UND is not a huge school, so it has a great community feel to it," Brueggeman said.
That community feeling Brueggeman fell in love was at full prominence in their game against bitter rival NDSU. The Betty Engelstad Sioux Center sold out for the first time in its history during that game.
"It was insane! It felt good to know we had all the support," Brueggeman said.
"It was a good tournament, it was a tough one for us because of how tired we've been playing so many games. But, it was good to build mental toughness," Brueggeman said.
UND played incredibly well in the UND classic, sweeping the entire tournament. Brueggeman was named MVP of the tournament for her stellar play. Including hitting at a .269 clip and 12 team blocks.
Brueggeman found out she was named MVP through her mom.
"I was very surprised to be named MVP," Brueggeman said. "I found out from a text from my mom actually. I had not been on Twitter or anything."
Brueggeman gives all credit to her MVP performance to her teammates.
"Without the rest of my teammates I would not have been able to perform in that way" Brueggeman said. Brueggeman shows her humble side giving credit to teammates, and hopes to continue their excellent team play for the rest of the season.  
Kyle Kinnamon is a staff writer for Dakota Student. He can be reached at [email protected]