The search for Savanna Greywind
How her story brought national attention to missing and murdered Native American women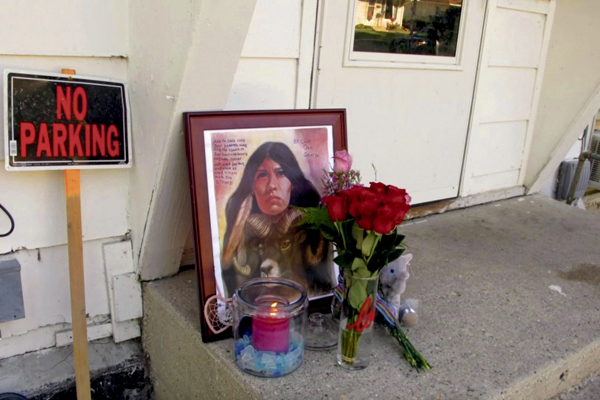 When Courtney Souvannasacd first heard that Fargo woman Savanna Greywind was missing she, like many Grand Forks residents, found herself thinking of Dru Sjodin.
Sjodin, a 22-year-old University of North Dakota student, was abducted from the Columbia Mall parking lot and killed in 2003.
"I was taking a woman and gender studies course at the time, and I never really knew about these issues- domestic violence against women," Souvannasacd said.
Souvannasacd said she "kept contemplating going out on the search for Dru and (she) never did," a decision she regrets to this day.
If the Sjodin murder had hit home for Souvannasacd as an undergrad, 22 year-old Savanna Greywind's disappearance was even more emotional for her as the current American Indian Student Services Program Coordinator. Greywind was a dual member of the Spirit Lake Sioux Nation and the Turtle Mountain Band of Chippewa, Souvannasacd's own tribe. The fact that Greywind was also eight months pregnant when she disappeared particularly resonated with Souvannasacd, a mother of three.
Although she and her husband are both graduate students with full time jobs and three kids, Souvannasacd did what she had to do to get down to Fargo and help with the search. She was certainly not alone.
Souvannasacd said the search "was a community effort," and that the search effort she was involved in was coordinated by a tribal entity that regularly organizes searches for missing persons. Unfortunately, it seems to the Native American community that these searches have to be organized all too often.
In a recent report by the FBI, Ken Gonzales, a District Judge in New Mexico, said "It's widely known that Native American women suffer violent crime at a rate three and a half times greater than the national average. One third of all Native American women will be raped in their lifetimes."
Many Native American-centered news outlets offer continuing coverage on the widespread problem of murdered and missing Native American women. Jaynie Parrish, an instructor in both the American Indian Studies Department and Women and Gender Studies, says that the sensational nature of the Greywind case "brought all of this to the surface," being picked up by not only Native American publications, but the national mainstream media.
Though violence against native women is a problem across the nation, Parrish said it is becoming more dire in North Dakota because "the early onset of the Bakken oil refining brought in a large number of outsiders and men near tribal lands." Parrish said this contributes to the troubling problem of Native American experiencing violence "at higher rates at the hands of men – non-native men."
Cases involving murdered and missing Native American women can be difficult for many reasons. Many Native Americans live in rural areas where "police are being overwhelmed by these reports and not being able to handle them," Parrish said.
There are also "jurisdiction issues that can get very complex" when it comes to tribal lands. Besides these two very complicated truths, there is also a feeling throughout the Native American community that police enforcement isn't as concerned with their safety because of their racial and tribal status.
Though there may be entangled circumstances that surround the cases of murdered and missing native women, that doesn't make the problem any less real or raw when another woman gets hurt.
"We need that police involvement. We need them to believe Norberta (LaFontaine-Greywind) and Joe (Greywind) when they say, 'our daughter is missing and it's suspicious,'" Souvannasacd said.
Savanna Greywind's newborn baby was found by police on Aug. 24 at Greywind's neighbors' house. Greywind's body was found on the night of Aug. 27, eight days after her disappearance, on the Minnesotan side of the Red River in Fargo. Through DNA evidence, the police were able to establish that the baby found by police was in fact Greywind's.
Greywind's neighbors, Brooke Crews and her boyfriend William Hoehm, have been charged with conspiracy to commit murder, conspiracy to commit kidnapping and giving false information.
Souvannasacd was involved in the search effort during these major developments. "When the news came out that they found the baby (…) I found myself crying at the end of each day. The story went a little grim from there," she said.
Parrish said the response from the Native American community to this story "is in direct relation to what happened in Standing Rock" in that it was yet another large gathering of Native American communities, showing their solidarity on an issue that affects them all.
"When the community comes together, the light outshines any of that darkness," Souvannasacd said.
Diane Newberry is the news editor for Dakota Student. She can be reached at [email protected]