Is climate change making hurricanes worse?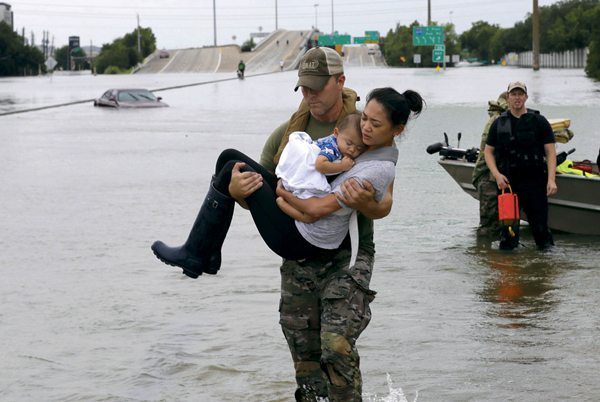 Hurricane Irma is now on track now to hit the gulf side of Florida the worst. It is estimated that already over a million people are without power. More damage is expected as Irma bludgeons her way towards Tampa Bay, Fla. Irma comes right after Hurricane Harvey flooded Houston with a record downfall of rain, and there is a much smaller hurricane which has yet to hit the U.S.
I personally cannot remember a year when there were two Category Four hurricanes to hit in one year. So, I started thinking about climate change as it related to extreme weather. I dislike the term global warming because it assumes the only variability of climate change is temperature. Instead, I prefer climate change because it is more scientific and implies greater extremes. Droughts will be longer, rainfall will be heavier, temperature will be both warmer and colder and destructive storms will be more intense.
I experienced this firsthand in the summer of 2016 when a July thunderstorm brought heavy rain and 80 mph wind which snapped many large trees from Ely, Minn., to Duluth, Minn. My tent, which was a North Face Storm Break 2, ironically got wrecked by the high winds.
So, do I think climate change is making hurricanes worse?
Yes, but weather is highly variable. These natural events would still happen, but maybe they wouldn't have been so severe had our society been more environmentally conscious in the past.
One opposing viewpoint might say that there's a great deal of noise in hurricane and flood data, and it is impossible to attribute a single hurricane or a flood to the slight rise in temperature due to our climate's inherent variability.
However, the Atlantic Ocean was particularly warm, up to one degree Celsius warmer than average in some locations. What was unique about Irma is that is picked up intensity in the Gulf of Mexico because of warmer ocean temperatures. Warmer ocean temperatures mean the hurricanes can hold more moisture, resulting in heavier rainfalls as Harvey has shown.
So what can be done to prevent this in the future?
We are in a grim situation. I expect storms like these to only increase in frequency, but hope is far from lost. Everyone has the right to education and advocacy. Instead of debating climate change, let's just trust most scientists and hold ourselves accountable. We have the power to elect representatives who serve our interests. In my opinion, climate change needs to be a greater focus for policymakers. Whether it is in the form of carbon taxes, littering charges, stiffer industry pollution regulations, incentivizing renewable energy or natural disaster relief programs, I think we can do better.
Nick Sallen is the copy editor for The Dakota Student. He can be reached at  [email protected]