UND opens new passport center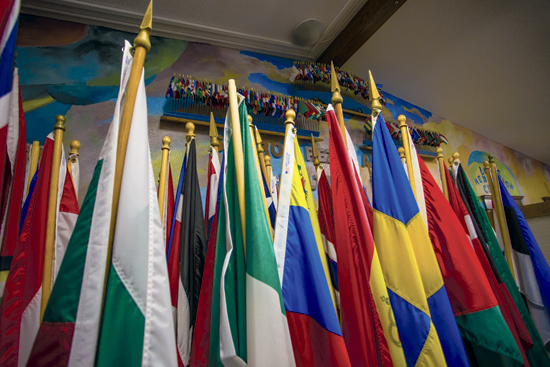 The University of North Dakota is making international travel easier as a means of promoting studying abroad.
As of Aug. 1, UND's International Center became a passport application acceptance facility. This means students, faculty and staff no longer have to go off-campus to the post office to apply for or renew a passport.
A passport is good for 10 years and costs a total of $135, but students should bring two separate checks. They will pay $110 directly to the Department of State, and $25 in processing fees to UND. Students who wish to renew their passport will only pay a $80 renewal fee.
Katie Davidson is the Director of the UND International Center.
"It's really nice to have this facility here," Davidson said. "Students can ask us questions, they can easily renew their passports, we can help them through the process of getting a new one, and then we also have the opportunity to talk to them on how they are going to use their passport."
One of those uses is for international study abroad. Davidson said one of the main objectives of opening the passport center was to boost the number of students partaking in UND's program.
"We are really focused on eliminating the barriers, either real or perceived, to students to study abroad," Davidson said. "So passports are huge, because, obviously, to go international, you need a passport."
One of those "barriers" is the fear of an expensive semester, but Davidson said some international options are actually less expensive than a semester in Grand Forks.
One student taking advantage of UND's study abroad program is UND junior Geneva Brandt, who is currently studying in France. She organized her travels before the International Center opened.
"A passport center would have been great. I had to have a friend drive me to the center in town more than once because we didn't know the hours and it wasn't convenient," Brandt said. "A passport center would have sped up my other travels, because I needed a new one to get where I was going."
Brandt is one of about 150 UND students currently studying abroad, but the efforts from the new passport center could lead to that number rising.
"It's to give students access to the world," Davidson said. "We're trying to build this culture of curiosity for students. We really want students to take advantage of this. This is the last time a lot of students will really have the freedom to do it."
International travel through UND ranges from year-long stays to week-long field trips, including COMM 402: Intercultural/International Communication, where students can go to Japan over spring break. All individuals traveling internationally, excluding some trips to Canada or Mexico, are required to carry a passport when crossing an international border.
In order to use the Passport Center, appointments must be made with an adviser in the International Center at Memorial Union 261. Appointments are available Monday through Thursday from 3 p.m. – 4 p.m. through Starfish or calling the office at 701-777-4231.
"We really encourage everyone who's going to be making an appointment with us to read thoroughly through the information on the travel.state.gov passport site, because that will tell you exactly what you need to bring," Davidson said. "You can actually start filling out the forms online and print them, then bring them with you to take up less time."
The International Center coordinates international travel to roughly 40 countries on six continents.
Jacob Notermann is a staff writer for The Dakota Student. He can be reached at [email protected]