Sports Q & A
ft. UND pitcher Kaylin VanDomelen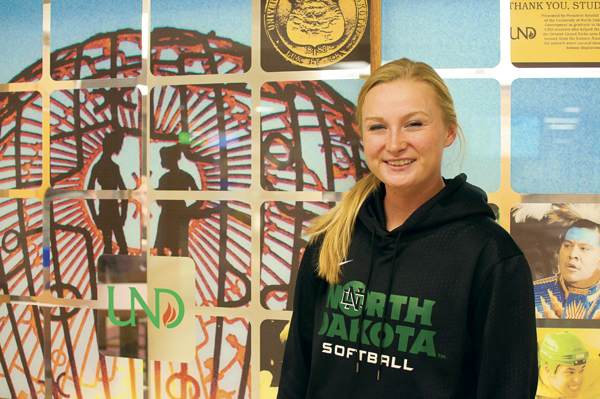 Kaylin VanDomelen is amidst the best year of her University of North Dakota playing career. A softball pitcher and outfielder, VanDomelen leads the team in both batting average (.311) and pitching earned run average (1.86). Additionally, she has hit seven home runs while batting in 24 runs. VanDomelen is a redshirt junior from Banks, Ore., a small town  near the Pacific coast. This week the Dakota Student met with her to discuss her success on the field, and her interests off.
DS: Growing up in Oregon, how did you get recruited by UND?
KV: Our travel softball team used to play in Colorado, and while there I was approached by Eric Oakley, who at that time was the head softball coach for UND. Now he is a coach for Kent State, though.
DS: How did you get started in softball?
KV: I started T-Ball when I was five years old, and have been playing softball ever since. When I was seven I started pitching. My dad played baseball, and my grandpa played semi-professional baseball, so baseball and softball are in the family.
DS: What do you enjoy more, batting or pitching?
KV: That's a hard question. I didn't pitch consistently until my senior year of high school. I played center field a lot growing up. When I got recruited it was really important for me to be able to hit in college. Even though I like to pitch, hitting is also important to me and was never something I wanted to give up in college.
DS: When you're not pitching for UND, do you usually play center field?
KV: Actually, it's usually right field. But I haven't played much outfield this year just because I've been pitching a lot.
DS: In addition to playing for a traveling team, did you play high school softball?
KS: Yes, I played for my high school in Oregon as well. The traveling team exclusively traveled to California and Colorado, and played two home tournaments in Oregon. All of our other tournaments were in those two other states so I was gone all summer. Our high school team was also successful. Even though it was a school of about 370 kids, we would consistently beat the other teams in our division, most of which had over 1200 kids. They were not happy about that. We won the 4A state tournament when I was a junior and again as a senior. As a freshman I received the 4A player of the year award, and as a senior received the pitcher of year award. I also played volleyball and basketball, and for those we were always in the top 8 tournament.
DS: This year at UND you've already amassed multiple Big Sky pitcher of the week awards. Do those accolades add unwanted pressure, or motivate you to continue to succeed?
KV: A little bit of both. Sometimes when you get something like that, you're like "oh okay, interesting…" but as a player you always want to get better. It hasn't been as much pressure though, because I just want our team to win. I don't care how I do as long as the team succeeds.
DS: Last Wednesday, the weather in Grand Forks hovered around 30 degrees and accumulated about four inches of snow. On days like this, are home games able to go on?
KV: If it's warm enough it depends on what the umpires say. Sometimes we even play in the snow. It depends on the visibility. When it rains and the field is unplayable the games get postponed or cancelled. Growing up in Oregon we would get rain delays that lasted for nine hours. If we had a home game today I don't think we would play because of the snow and wind.
DS: Does the weather have an effect on your performance?
KV: The only time it gets tricky is when my hands get cold and I try to spin the ball while pitching. That's how I throw curveballs, screwballs, changeups, etc.
DS: Do you have any superstitions?
KV: My mom is really superstitious, so that's where I get a little bit of it from. I try not be, because once you get one it's hard to let go of it. I recently developed a new one the weekend we won the series against Sacramento State.
I drank out of the same coffee cup both days, but I forgot the coffee cup when we went to Northern Colorado and that time we didn't do so hot.
DS: Do you have any team goals for this year?
KV: We want to get to the [Big Sky] conference tournament. Getting to the tournament is big for us because we haven't been to one as a D1 team yet. We can play with the reigning champions, we just lost in a couple key innings. It's nice to know that we can play at that level, so now we just need to get there. Since getting to the tournament is based on regular season performance, as it stands right now we would qualify. That's why it's important for us to keep winning this weekend.
DS: Outside of school and softball, what else do you enjoy doing?
KV: That's a hard question! I really like Netflix, obviously. It depends on the season. In the fall, my roommate and I used to go on a lot of walks. When I'm home for the summer my sister and I like to go hiking; there's a lot of great hikes in Oregon. I also like working out, both at the wellness center and at home. My sister and I are addicted to that sort of thing, along with (Oregon based) Dutch Brother's Coffee. The coffee on the West coast is so much better. I'm addicted, I have coffee every day. Some other things that I enjoy is reading, and going to my friend's lake cabin in Grand Rapids (Minnesota). I can't imagine not having a lake house now that I've been there.
DS: What are your plans after graduation?
KV: As an elementary education major, my goal is to teach first grade post-graduation. I'm never one to not have a plan, so it would be nice to teach first grade near Coeur d'Alene, Idaho or back home in Oregon. I always say that I don't have patience, but last year when I taught toddlers I realized that I do. I have patients for kids who don't know any better, but I could never teach high school, where the students are sassy just to be sassy. They know what they're supposed to be doing, but when they're still cute and don't really know, then I can handle it. I would also like coach either softball, volleyball or basketball later in life.
As this year's softball season draws near its conclusion, there's still a chance to attend one or more home games at the Apollo Sports Complex in Grand Forks. The team has a doubleheader against Southern Utah Friday, May 5 beginning at 3 p.m., and another game Saturday, May 6 at 1 p.m., which is senior day. Students are encouraged to go, where they will get the chance to see a dominant VanDomelen help her team secure a spot in the Big Sky Conference tournament.
Thomas McCullough is a staff writer for the Dakota Student. He can be reached at [email protected]