Flashback Friday: OT heroes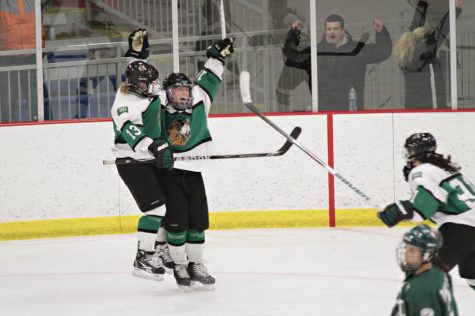 If UND women's hockey forward Emma Nuutinen had one thing on her mind heading into overtime against Ohio State, teammate Kristen Campbell assured her of what it should be. Score.
"In between periods, I was grabbing a drink and Kristen Campbell said to me, 'You are going to score in overtime, you will be the OT hero,'" Nuutinen said. "I had a good feeling and Kristen is never wrong. The game was the third of the weekend and both teams were getting chances."
At the 9:04 mark in overtime, Campbell's prophecy came true.
Nuutinen, who shares a team-leading 10 goals with Amy Menke, buried the goal that gave the Hawks a 2-1 victory in a do or die game three matchup with Ohio State in the first round of the WCHA playoff.
"I saw Vilma, my fellow Finnish teammate with the puck at center ice and I yelled at her in Finnish to pass to me," Nuutinen said. "Once I received the pass from her, I knew that I could cut around the D and take the puck right to the net, and the goalie was challenging far out of her net, so I went around her and had an open net."
Nuutinen's game-winner punched the Hawks a ticket to the WCHA Final Face-Off.
"It is an amazing chance we now have in front of us, to play in the conference tournament and compete for the WCHA championship title," Nuutinen said. "We have been working hard for this opportunity all year and I am happy that I was able to help my team to win. Of course, it is nice to score important goals."
While Nuutinen's goal brought UND a seventh straight Final Face-Off appearance, it also brought flashbacks of another memorable moment in UND hockey history. A memory made six years ago by former UND star and volunteer coach Monique Lamoureux-Morando.
Like Nuutinen and the Hawks, Lamoureux-Morando and the 2010-11 UND women's hockey team headed into a decisive game three showdown in the first round of the WCHA playoff against Bemidji State. After two goals by both teams after two periods, neither team would score in the third, bringing the game into an extra session. The result, a Lamoureux-Morando game-winner, sending the team to the Final Face-Off.
"I remember being at Purpur arena for our series. It was the first year we had ever hosted in playoffs. I was going to dump the puck in and go to the bench," Lamoureux-Morando said. "I saw that their defense we sitting way back in the zone, so I faked a slap shot and drove down the right side. I had a small lane to the net. I had played against this goalie for a couple years in college and the international way, so I knew she left her five-hole open on occasion. When I drove to the net, I went to my backhand and slid it five hole."
Looking back, highlights show just how comparable Lamoureux-Morando's goal was to Nuutinen's game winner. Both UND players took the puck coast to coast from the right side of the zone, got around a defender and put the puck in the net.
Yet, Lamoureux-Morando has a different view of the comparison.
"The only similar thing about it was we came down the same side of the ice. She was on a 2-on-2 and she noticed a small lane to cut across the front of the net," Lamoureux-Morando said. "Her vision and patience on that goal was elite. She cut through both of their defenseman and had the poise to hold onto the puck and got the goalie to drop. She waited until she had an open net and all she had to do was slide the puck in. In my opinion, her goal was nicer than mine."
As for Nuutinen, she has not seen highlights of the Lamoureux-Morando's game-winner, but admits the comparison is humbling.
"It is cool to score in a similar situation. Monique is a great player and person," Nuutinen said, as she continued to discuss Lamoureux-Morando's impact as a coach. "It is a big benefit to have her around at the rink. Monique works mostly with our goalies and Jocelyne (Lamoureux-Morando's twin sister) is our strength coach. They both are a big help for the team and I'm thankful for everything they do for us."
Comparisons aside, Lamoureux-Morando is just proud of the way the Hawks played.
"The hardest thing to do is to end another team's season," Lamoureux-Morando said. "You are going to get their best, and the ladies got OSU's best. The team has had their ups and downs this season, but they knew they just needed to make it to the next game to keep their season going."
Lamoureux-Morando added: "Obviously, there is immediate excitement and adrenaline following a game like that. I think it gives a team a sense of belief. In 2011, our team wasn't expected to do anything. For us to make it to the frozen face off was a big thing."
Moving forward, the Hawks hope to carry that sense of belief in order to avoid the same fate that Lamoureux-Mordando's team experienced in 2011, as they went on to lose 3-0 to top-seeded Wisconsin in the first game of the Final Face-Off.
Ironically, the Hawks play a once again top-seeded Wisconsin team that will be odds-on favorites to not only defeat the Hawks, but win the WCHA playoff.
That being said, Nuutinen and the Hawks are ready for the showdown.
"I'm very excited about playing Wisconsin in the first game," Nuutinen said. "Wisconsin is a good team for sure, but I think they have all the pressure in that game against us. We played good games against them, but we weren't able to get a win. It is great to have a new chance to win against them in the do or die game."
As for Lamoureux-Morando, she has a message for the Hawks heading into the matchup.
"The ladies have done well against Wisconsin this year. They have had close games, so I think the confidence is there," Lamoureux-Morando said. "What has happened in every game this season leading to this game doesn't matter. Nothing matters but this game and when it's a one and done situation, anything can happen, so just go out there and have fun, and get a W."
The Hawks take on Wisconsin in the first game of the Final Face-Off on Sat. at 2:07 p.m. in Minneapolis, Minn.