Brunch beats a McMuffin
After a long, sleepless weekend followed by church on Sunday morning, everyone wants to eat a delicious meal with family and friends. Right?
Last Sunday my friends and I were exhausted but in need of food, a brunch buffet seemed like the right place to go. In the busy entryway of Ruby Tuesday, off of 32nd Ave. S., we pushed through the after church crowd to the hosts who promised us a table in 25 minutes.
There was a beautiful family with five young children patiently waiting for a table. I noticed they had been waiting for over 20 minutes as well, so I decided to chat with them.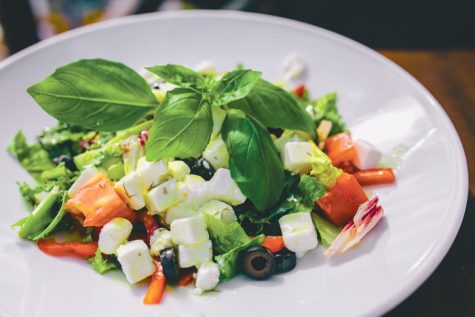 "Your children are adorable and so well behaved", I mentioned to the mother, Karen McKenna, of the family. She laughed, thanked me, and said; "You should see them at home. They are only waiting this nicely because they love the brunch here. I forgot to make a reservation, but it's cheap so we are waiting."
Unlike other restaurants in town, Ruby Tuesday takes reservations. In Grand Forks, N. D., not many businesses are open until noon or later on Sundays. The couple restaurants that are open Sunday mornings become packed extremely fast, as you can imagine.
Ruby Tuesday opens at 11:00 a.m and they serve brunch until 2:00 p.m. Making a reservation for your party is definitely recommended for Sunday mornings. After the encouragement from the family of five children and 30 minutes of waiting we were seated and ready to dig in.
Ruby Tuesday is a popular, a little upscale, restaurant but not out of reasonability with their prices. The brunch buffet is $15.99 for adults, $7.99 for children, and children under the age of five eat for free. Ruby Tuesday brunch buffet included a salad bar, fresh fruit, pastries, hand carved prime rib, assorted breakfast meats, eggs, pancakes, waffles, french toast, hash browns and personalized omelets.
I was impressed with how many choices there were and how fresh everything was. Ruby Tuesday also had a wide variety of beverages on their menu, including special adult breakfast drinks such as mimosas and bloody marys. The bloody mary was phenomenal if you like them a little spicy.
No other restaurants in town host a brunch buffet for their guests, but you can also order off of the lunch menu instead if you would like. Ruby Tuesday has a large menu for lunch offering entrées of salads, burgers, pastas, sandwiches, wraps, and tacos. My friends and I all headed for the buffet immediately.
My personalized omelet with ham, bacon, cheese and peppers was to die for. After two bloody marys, three full plates of breakfast food and one pastry, with out breaking my bank, I was feeling more than satisfied.
The only thing that could have made this delightful morning brunch better was making a reservation for my party to avoid the competition of others desiring the only brunch buffet in town.
Jordan Hermes is a staff writer for The Dakota Student. She can be reached at [email protected]