#44, The Enforcer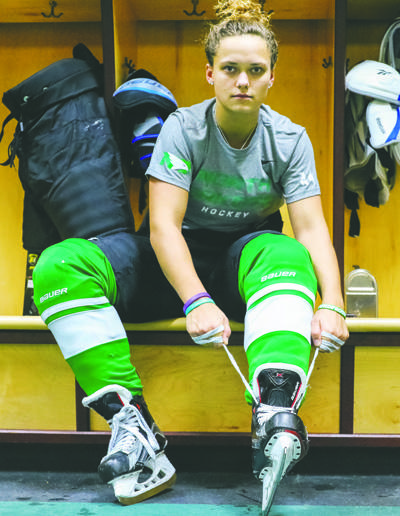 From the moment she put on her first pair of skates to the last time her skates hit the ice at the Ralph Engelstad Arena and all the time in between, her heart belonged to the game of hockey.
Rebekah Kolstad, a native to Mankato, Minn., has been lacing up her skates since the age of four to play hockey, and she has climbed the ladder of success all the way to today where she proudly wears number 44 for the Fighting Hawks.
Developing into a Division I player takes endless days and nights of practicing, wins, losses, struggles and passion; all things that Kolstad has dealt with in her 16 years of playing.
Kolstad played other sports as well, including: softball, track and soccer, but her heart belonged to the game of hockey —when it came down to the decision of picking one, her choice was easy.
"I always had a passion for it, I've always loved it and I was successful with it, going through advanced camps you kind of get in the recruiting process through that," Rebekah Kolstad said.  "Coaches started talking to me sophomore year, that's when it hit me like 'Oh wow, I can actually go play Division I hockey somewhere if I want to.'"
When it came time to decide where she wanted her hockey career to take her, she recalls the three schools she was most interested in.
"It all kind of fell into place for me, there was three schools I was trying to decide between, Bemidji, Duluth and North Dakota," Rebekah Kolstad said. "North Dakota gave me a timeline of when I should make a decision by,  otherwise they were going to offer my scholarship to someone else so I had to figure my stuff out."
Committing to UND and taking that next leap in her career was an honor that not only affected her but her family, and they all celebrated Rebekah's successes.
"I was very proud of her because she's worked so hard to obtain that goal," Kolstad's mother, Teresa Kolstad said. "For her to work that hard, to be given a God-given talent and be able to work hard beyond that in the weight room, the way she eats to get to where she could compete at that college level and then for her to be rewarded with going to a division I school, I was tremendously proud of her. I knew it was going to happen for her because of her work ethic, but for her to really sign to UND and for it to have happen was really good."
It wasn't the tight deadline and scholarship money that drew her to North Dakota. They offered her more than money. North Dakota gave her a sense of belonging.
"The other teams weren't really enthused by me," Rebekah Kolstad said. "I felt like North Dakota actually wanted me. I just felt like I belonged here."
Stepping into the Ralph for the first game, lacing up and wearing the game day jersey was a special moment for Kolstad.
"It was definitely an amazing feeling, but also it was like you made it. You worked all your childhood to get to this point and you're finally here, now it's all in your hands on what you're going to do," Rebekah Kolstad said. "It's an honor to put on that jersey every day, even at practice. You have to realize that you're representing not only yourself, not only your family or your hometown, but the whole university too."
Kolstad, in her sophomore season now, has proven to be a physical asset to the team, beating opponents to the puck and winning battles against the boards or sending her opponents into them. Standing at 5 foot 10 inches, it's clear as to why her opponents fear her.
As with any athlete, her development as a player is an ongoing process. In the month of play so far this season, the growth she has made from the offseason is noticeable.  Now, she may have the physical game down, but there was one thing that Kolstad was missing her entire freshman season: a goal.
"I just go in and take charge physically," Rebekah Kolstad said. "The outcome of being able to beat someone physically is being able to get down the ice and put our pucks in the net."
Kolstad appeared in all 35 games of her first year and tallied two assists, 17 blocks, an even +/- and 26 penalty minutes, but missed the opportunity for her first goal.
"It was definitely challenging and upset me a lot," Rebekah Kolstad said. "At the same time I knew I just had to keep doing what I was doing and working hard to get past that step."
Kolstad has yet to miss a game, and her physical style of play has been key to the team that wouldn't necessarily show up in any columns on a box score. She has stayed consistent in her style and didn't allow for her desire for a goal to distract her from the team's strategy to success.
"Rebekah has always been an unselfish player," Teresa Kolstad said. "She has always been very much a team player from very young and I think that's still true to the way she plays now."
As committed to the team as she is, Kolstad showed that as she finally notched her first goal as a Fighting Hawk in the home opener this season against none other than her hometown team, Minnesota Mankato.
"Having it be against Mankato was kind of funny. My best friend from high school who I played with is also on that team and she was actually on the ice when I scored," Rebekah Kolstad said. "She sent me a text after saying 'I guess it was meant to be that I was out there with you for your first goal,' that was a cool text to get from her."
Kolstad, like many other athletes, has her own personal fan club that travels to watch her play every game and cheer louder than most: her family.
"Having my family there is pretty special because they've watched me ever since I was four years old, they've been waiting for my first goal too," Rebekah Kolstad said. "It's great to have them always supporting me no matter what I'm doing,  just knowing that they'll always be there for me is something I have in the back of my mind, so it's something that I hold onto and it's pretty special."
With her first goal in the net and the anxiety of being goalless behind her, Kolstad wasted no time notching a second against the top ranked team, Wisconsin.
"I felt more relaxed, my confidence probably went up too. I've known that I can score but it was a matter of time before it happened," Rebekah Kolstad said.  "It kind of felt like a dream, I was just thinking 'Did that really just happen?' I've been waiting a year for this and it finally happened."
With support from her friends, family and teammates, there's one other factor to Kolstad game: her faith.
"When it's game time, every time we're on the blue line during the national anthem I say a prayer," Rebekah Kolstad said.  "I ask St. Christopher to protect me and make sure I don't get hurt and I say, 'God, I want to win, but I know the game is in your hands and whatever will happen, will happen and it's your plan."
        While she says a prayer from ice level, her mother makes sure to say another one from the stands.
"When the national anthem plays, I'm saying a prayer up in the stands at every single game," Teresa Kolstad said.  "I pray for every single girl on the ice that they play their best of their ability and that they walk off the ice without illness or injury, and then I have a special blessing on Rebekah as well."
Kolstad is an active participant in the Fellowship of Christian Athletes (FCA) on UND's campus. During the weekly meetings Athletes discuss trials and triumphs with their sports and how they look to God for guidance.
"It definitely plays a role with going to FCA," Rebekah Kolstad said. "I definitely learn from other athletes different things, like when they fail what they do and how they don't blame God for it but find the positive in all the failures."
The sophomore forward has her eyes set on the prize. With her family, friends and faith behind her, she hopes to see a successful season.
Allyson Bento is a the sports editor for The Dakota Student. She can be reached at [email protected]