Hawks hope to fly past Thunderbirds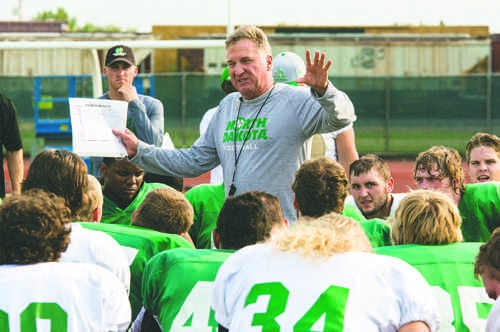 UND homecoming welcomes Big Sky reigning champions to the Alerus
Coming off four wins in a row, the Fighting Hawks return to the Alerus Center for their Homecoming to dethrone the reigning Big Sky Conference Champions, Southern Utah University.
After dropping their first two contests, the Hawks have now won four games in a row and are undefeated in conference play.
With Southern Utah winning the Big Sky conference last season, it makes the game even bigger.
"Obviously this week is going to be huge with the defending Big Sky Champs coming into town," Connor O'Brien said. "We're going to prepare like it's just any other week, and hopefully we can get a positive result."
The last time the two teams met up was in 2014 in Cedar City, Utah. The Southern Utah Thunderbirds were victorious 35-17 over UND.
While SUU may have a new head coach and new players, there will be some things they draw from the last meeting two years ago.
"We look at it (the last matchup), and there's still some things they still do offensively," head coach Bubba Schweigert said. "There's some things they still do defensively because there is some carryover from the staff. We know we have to play better than we did out there in 2014."
This year's Homecoming is a little more special than usual. It marks the 100th Homecoming in the school's history. It is also Military Appreciation Day at the Alerus Center.
While the Hawks have been traditionally good on Homecoming, 62-31-4 all time, they have struggled since the Alerus Center opened in 2001 going 8-7 in those contests.
UND will have their work cut out for them on offense. SUU is one of four Big Sky teams that have averaged giving up less than 25 points per game to the opposing team.
Last Saturday, they only surrendered a field goal against UC Davis.
"They're a pretty physical squad," Keaton Studsrud said. "They like to load the box and stop the run, so we're going to have to take our shots with our wide receivers down the field."
The Thunderbirds come to Grand Forks at 3-2. They are a better team than their record indicates though.
"I think they're a much improved team, they're playing really well," Schweigert said. "Last week was a very good game for them against Cal Davis."
Last week, they put up a season-high in rushing yards against Sacramento State. They rushed for 422 yards as a team.
As usual, the ground game for UND will be important. The Hawks have had a rushing touchdown in 15 straight games. Last week, the Hawks also had one of the most potent rushing attacks in the league.
They are the only team in the Big Sky Conference with two rushers ranked in the top 10 with Brady Oliveira averaging 84.4 yards per game and John Santiago averaging 73.8.
For defense, it will be more of the same from the Hawks. They have been great at stopping the run all season long and will look to continue this trend against SUU.
UND has also been excellent in the secondary. Their 11 interceptions is tied for best in the FCS.
Last season, UND had only six interceptions all year long. In all, the defense has forced 16 turnovers this season.
Kickoff for the Homecoming game is at 1 p.m. at the Alerus Center Saturday, Oct. 15 against Southern Utah.
Adam Gunderman is a staff writer for The Dakota Student. He can be reached at [email protected]