Catching some "Reyes"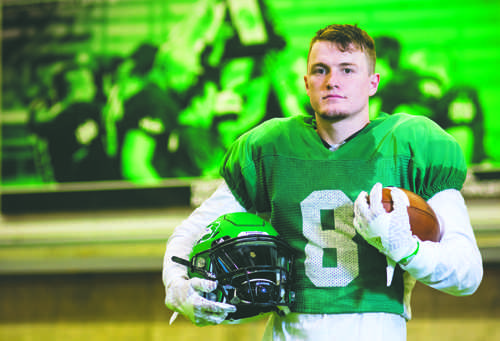 I want to get on some All-American charts and get notices throughout the country more than just the conference."- Cole Reyes, UND Defensive Back
Having a safety that is willing and able to play all over the field is a huge plus for a defense.
Having one the caliber of junior Cole Reyes is more like having a weapon.
This season, Reyes was named a captain of the football team, something he sees as a huge honor.
Anyone who has spent a weekend afternoon at the Alerus Center these last two seasons has witnessed the 6' 2" safety flying around and making big plays for the Fighting Hawk defense.
Reyes looks up to Arizona Cardinals' safety Tyrann Mathieu, and you can see a little bit of Mathieu's play in him when he's running and making plays. It's not only his play Reyes' admires, but also the way he has handled adversity.
Coming out of high school, the Schaumburg, Ill. native had received multiple offers and a lot of interest from other schools to come play such as Northern Iowa, South Dakota, South Dakota State and Western Illinois, but diligence from  UND coaches made the difference.
"I got quite a few offers when I was a junior in high school, but my first offer was from UND," Reyes said. "I felt at home, they recruited me pretty well. They kept up with my games, and even during basketball season they would check up with me and see how I was doing. They kept with me and I figured if they were loyal to me, why not be loyal to them?"
Coming from a big suburb of Chicago, the move from urban life, to a more rural location was different, but Reyes has gotten more used to it with time.
"There were times when I first got here that I was homesick, because there a big difference," Reyes said. "But once I got adjusted, it's not as hard not going home anymore. It's good when I do, but I'm not always missing it anymore."
Being a captain comes with a lot of pressure. You are responsible for being a leader, and also teaching the new players who come into the program the ways in which North Dakota football does things. Some people don't like it, or can't handle it. This is not the case for Reyes.
"They expect a lot from me," Reyes said. "Being one of the older guys, especially on the defense, it's cool to have them depend on me. Sometimes it rough, and kind of a lot on me, but I like it and feel like I perform better."
Reyes' first season at UND was in 2013. The team ended the season with a 3-8 record.
Fast forward three seasons and there big changes. The Hawks are coming off a 7-4 season and have won as many games in a row now as the 2013 team won all season.
"I think everyone is a little more comfortable. We've had a young team the past couple years," Reyes said. "Defensively, last year we were pretty good, but we struggled in the secondary, which I'm apart of so that kind of hurt. This year, we're number one in the nation in interceptions, so that's pretty cool, but we still have work to do. We can't be complacent."
The comfort partially comes from knowing the defense better.
"We don't have to think as much, we know the call and we're comfortable where we're at," Reyes said.
When UND moved into the Big Sky conference, they gained more than just a conference.
Many of the schools that comprise the conference have beautiful and unique stadiums, from the mountain views of Montana to the red turf in Eastern Washington.
"I love to play at Montana State, especially this year since we got a win out there," Reyes said. "I love the atmosphere there, and you can see the mountains in the background."
While the team goal, to win the Big Sky conference and make a run into the playoffs, is echoed by both players and coaches, Reyes also has some personal goals for the season as well.
"I was voted pre-season All-Conference which is pretty cool, but I'm just not comfortable with it, I want to get better," Reyes said. "It's awesome that I'm expected to do that, but I want to get on some All-American charts and get noticed throughout the country more than just the conference."
The Hawks final regular season game this year in Nov. 12. The playoffs will start the weekend after if they are selected to participate.
"I told my mom that I'm not planning to see her for Thanksgiving this year," Reyes said.
Reyes and the rest of the Hawks return to action Saturday Oct. 8 at 8 p.m. in Sacramento, Calif. against Sacramento State.
Adam Gunderman is a staff writer for The Dakota Student. He can be reached at [email protected]