Expectations of excellence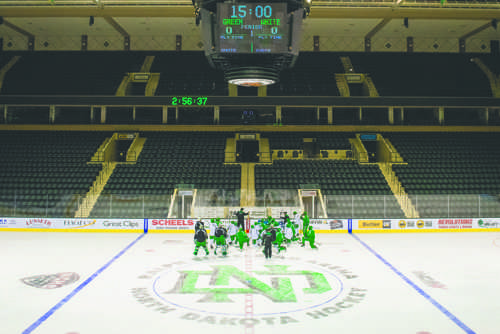 UND picked to win their third straight Penrose Cup following championship season
Last season, UND men's hockey believed it, earned it and they raised it. Not just one banner, but two banners. One banner was a title that UND hockey fans have seen many times before, a regular season title, but the second hasn't been in Grand Forks since 2000, a National Championship.     Brad Berry became the first ever coach in college hockey history to win a National title in his first season at the helm. This season, Berry will be looking to win his second title in as many seasons, but it won't be easy.
The Fighting Hawks will have to replace players on both their blue-line and  at the forwards spot. UND lost eight crucial players from last years squad, with three coming from the blue-line, and two from the forward spot.
Paul Ladue, Troy Stecher, Keaton Thompson, Luke Johnson and Nick Schmaltz were among the chosen ones to take the call up to the big leagues. UND also dismantled their "CBS" line, with Stecher heading to the Vancouver Canucks and Drake Cagguila graduating.
UND also lost seniors Coltyn Sanderson and Bryn Chyzyk to graduation.
Can the Fighting Hawks replace 277 points from those eight players? Only Brad Berry knows the answer to that, but it might be a little different team we see this season at the Ralph Engelstad Arena.
As many outstanding players UND lost, they return a lot of promising players this season, as well. Brock Boeser, Cam Johnson, Austin Poganski and Tucker Poolman, who all played major parts of last year's title team, will look to play more of a part this season. Boeser, who had a whopping 60 points last season, including the game-winning goal in last year's title game against Quinnipiac, will look to be a leader who the team will look to, and make plays much like he did last season.
Boeser loses the line mates Cagguila and Stecher, the duo from the line last season, so who steps up and plays along with the Hobey Baker finalist? A good candidate for at least one part of that line is incoming true freshman Tyson Jost.
Last season, as a member of the BCHL's Penticton Vees, Jost had a whopping 104 points, with 42 goals in 48 games played. Jost has a knack for putting the puck in the back of the net, and there's a good chance that Grand Forks will be seeing these two on the same line this season.
Jost is one of multiple freshman who will look to make a huge impact this season. UND also is set between the pipes. Cam Johnson, who had a chance to turn pro as well, decided to stay on campus and win another championship. Johnson was named to the All-American list as a second-team. Safe to say, opponents will have a hard time scoring on the Junior Goaltender from Troy, Michigan.
After winning a National Title in April, UND was voted to win the NCHC regular season by the league's media members.
UND starts out the season with five straight non-conference games at home. The non-conference schedule is highlighted by a game against Boston College Dec. 3 at Madison Square Garden in New York City.
The Hawks will have a major target on their back as they try to repeat as national champions this season!
Hunter Plante is a staff writer for The Dakota Student. He can be reached at [email protected]