Fighting Hawks look to spoil Bobcat's Homecoming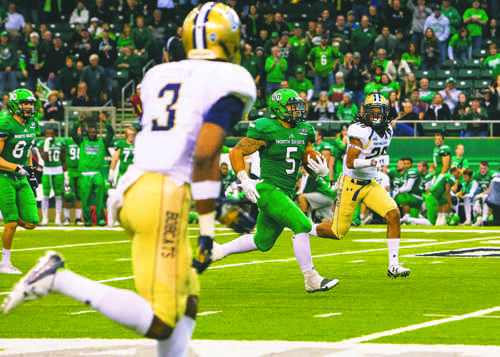 The Fighting Hawks take on Montana State University Bobcats this Saturday for their first conference matchup of the season.
After a thrilling Potato Bowl and home opener that saw the Hawks score 17 points in the fourth quarter to take the game into overtime, they now shift their focus to Montana State as they start conference play. It is homecoming for MSU this weekend.
A year ago, the Hawks were able to pull off a home win against the Bobcats as they won 44-38 behind John Santiago's career-high 230 yards rushing and tree touchdowns. Brady Oliveira also had a huge day on the ground, rushing for 167 yards.
This year, the Montana Sate defense has shown improvement with new head coach Jeff Choate. They have averaged giving up only 14.3 points per game. They come into Saturday with a 2-1 record. Their last game was a 55-0 route of Western Oregon. Choate said he sees their matchup with the Hawks as a tough test in an interview with the Grand Forks Herald.
"The true test is this week," Choate said. "This is a team that probably should have been in the playoffs a year ago."
The Bobcats' offense is lead by junior quarterback, Tyler Bruggman, who has bounced around programs in recent years. He has spent time at Washington State, Louisville and Scottsdale College before joining MSU this season. He is 50 for 92 passing with six touchdowns so far.
This will not only be a test for the Bobcats, but also for the Hawks. UND has gotten off to slow starts the first two weeks but look to have shaken that against USD, only to slow down in the second quarter. Head coach Bubba Schweigert wants his team to pick itself up after one side of the ball makes an error.
"One side makes a mistake or there's a special teams mistake, we have to bail each other out," Schweigert said. "You do that by execution, great focus and playing really hard."
After the big win last weekend, there is a sense of confidence among the UND players. they know they can win the close games.
"It helps the confidence a great deal, especially doing it the way we did," Schweigert said. "It's a good lesson in not only football, but life. Don't quit. Keep plugging away and some good things will happen."
Conference games hold more significance than games against non-conference opponents. These games determine who wins the conference. If you win the conference, you get a automatic bid into the FCS playoffs.
A year ago, UND was snubbed of a playoff selection, even though they had a win against an FBS program as well as more wins than the last team that got in. This year, they want to win the division, and leave no doubt as to if they will get into the playoffs.
"Every game is important in the conference," Oliveira said. "Every game is going to be hard, so we're going to come ready."
The Fighting Hawks offense will have to stay on their toes this week as the MSU defense has forced 12 turnovers in their three games this year. Ball security will be a major key in UND's game plan for the Bobcats.
In the all time series, MSU leads 18-14-1 against UND. The Hawks have a 6-11 record in Bozeman.
The game starts at 3 p.m. central time at Bobcat Stadium in Bozeman, Montana Saturday, Sept 24.
Adam Gunderman is a staff writer for The Dakota Student. He can be reached at [email protected]