Head coach Mark Pryor looks ahead to conference battles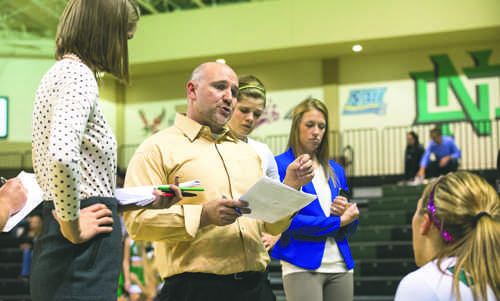 Improving the defense could push UND to see victory in Big Sky Conference
The University of North Dakota Fighting Hawks volleyball team has changed its identity from last season. Head Coach Mark Pryor has stressed both offense and defense since his players came back to campus nearly two months ago.
"Last season, we were more of a defensive team, and this year we tried to change our identity and maybe have more of an offensive minded team," coach Pryor said. "We've had a little higher hitting percentage than last season, and haven't had as many long rallies as last season."
Part of that good offense UND has had this season also helped it's defense a great deal. Coach Pryor said having big bodies up front certainly helps the back-row for the Hawks.
"If you have a big, physical block, then there's less court that you have to cover," Pryor said. "When our blocking gets right that definitely helps our defense out tremendously."
While UND has undergone some revamping there is still evidence that there is progress to be made.
Although the Hawks still see struggle defensively, they do have a rotation of five players in their back row who have held UND from falling to every opponent.
The Hawks have four players who have triple-digit digs. The group includes Tamera Merseli, Teo Tepeva, Sydney Griffin and Alivia Fraase.  Merseli leads the group with 165 digs in fifteen games.
"We throw a bunch of stuff against the wall and hope it sticks. Right now, we kind of have a couple different options we can go to try to figure the defense side out." Pryor said. "Every kid we have put in has been able to step in and make plays at different spots.
UND has had a difficult schedule, playing four Power 5 conference teams, which include the Big Ten, SEC, Pac-12, ACC, and Big 12. The four teams UND has played Ole Miss, Clemson, Texas Tech, and Minnesota. Going 1-3 in those games, coach Pryor says there is room for improvement in all areas.
"There's always room for improvement. At times, there were games where we were able to control some really good hitters, and other times, it wasn't as good," Pryor said. "We're starting to see progress, and we will be a work in progress really throughout the year kind of gearing up for the conference tournament."
Pryor said playing against the big schools has also helped the confidence of the entire Fighting Hawks squad.
"It certainly gives us confidence when we can stay on the floor and compete with a top-5 ranked team."
As a team, UND has had 755 digs in fifteen matches.
The Hawks took a blow to their defense this year, as two of their best players graduated, Lauren Clarke and McKenzie Hart. The two collectively accounted for over 1,000 digs in their senior season and left behind some big shoes to fill.
Though there may be a gap left by the two seniors, the squad is doing the best they can to claim that 1,000 dig mark and quickly. As the stats show,  with four players in triple digits for digs, UND has made up for the production of those two players by committee.
Creeping into the halfway mark on the season, the Hawks have crawled just above the .500 record mark as they begin to face Big Sky Conference opponents. It's just a matter of time until we can see if Pryor's new squad can keep on pace and exceed last seasons results into the  Big Sky Conference Tournament in November.
UND will head on a three-game road trip beginning in Greeley, Colo. against Northern Colorado, Saturday Sept 24 at 1 p.m.
Hunter Plante is a staff writer for The Dakota Student. He can be reached at [email protected]