Bubba sets plans in motion for a successful season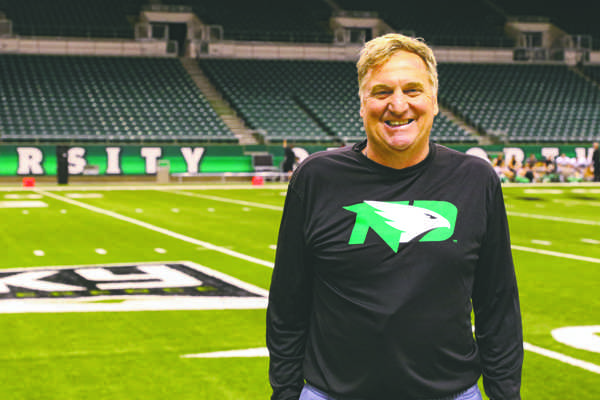 Head coach Schweigert speaks to the keys to success for his 2016 football squad
When Bubba Schweigert took over as the head coach of UND football, the program was coming off a three win season. UND was transitioning to Division 1, and struggling.
Since Schweigert has become head coach, the team has shown improvement. The Hawks first year under his guidance went 5-7 in 2014. The next season, the team held a 7-4 record, and were one of the last teams to get eliminated by the selection committee.
The Hawks have not gotten off to a great start this season, they're 1-2, but the team picked up a huge come-from-behind victory of the USD Coyotes last Saturday.
Schweigert envisions the program as perennial contenders. That is the team's ultimate goal.
"We have a simple goal: We want to be Big Sky champions every year," Schweigert said.
"That's what we work hard for in the winter, spring and summer time for. When you're conference champs, you get an automatic bid into the playoffs, and a chance to be national champions."
Each year, his teams have improved, and moved towards that goal. Last season, the Hawks got snubbed by the playoff selection committee. This year, the team hopes to not have their playoff chances decided by the committee.
The squad this year is different from other years. This is not something that is unusual. However, this team has also shown even more grit and determination this year than we have seen in years past.
"I really love our football team this year because they come to work everyday, and they really have a desire to get better," Schweigert said. "When you have that, and you come to work everyday, you're gonna get better."
Even in their losses, they have shown their never-give-up attitude. The first game, they lost to Stony Brook. The team put together their longest drive of the day on their last possession and were close tom completing the comeback. The next week, when down 21-10 at half, the Fighting Hawks didn't quit and would've potentially won the game with a good two-point conversion.
This last weekend, the Fighting Hawks scored 17 points in the fourth quarter to tie up the game and send it to overtime. Many fans had already headed home, but the Hawks will to win never left the Alerus Center.
Schweigert has coached in a few different places in his career. His first coaching job with UND started in 1989, when he was an assistant coach. Now as head coach, and 17 years later, he has seen change in the program.
"Now we focus more on things going on at practice, and things going on on the field," Schweigert said. "For a long time, we had to harp and stress on things just in our day-to-day operations. We don't forget about those things, but now we don't have to constantly be on the guys on how we practice, and how we conduct ourselves."
While the program had stumbled a bit before Schweigert came, the tradition of UND football has always been there. Schweigert wants to continue and build on that tradition.
"We've always had great tradition at UND football. We've had a number of good players and a lot of good people around this program," Schweigert said.
Leave no doubt, Schwiegert has high aspirations for the program.
"When we got here, we just felt like we had to do some things a bit differently and make some changes," Schweigert said. "The vision for us is very simple: everything we do, and everything we decide to do is to get us moving in that direction of a Big Sky championship. Everything in their (players) day-to-day operations has to be with that vision in mind."
The Fighting Hawks continue their journey towards a Big Sky championship this Saturday, September 24th, in Bozeman, Montana to take on the Montana State Bobcats.
Adam Gunderman is a staff writer for The Dakota Student. He can be reached at [email protected]