Smokin' hot, Firehouse Subs opens in Grand Forks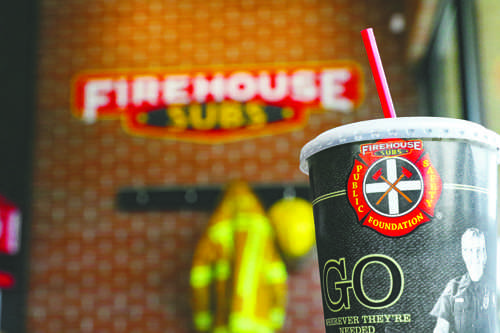 Sub sandwiches are a classic lunchtime favorite for many people.
There is certainly a lot to love on a sub, as the traditional sub sandwich is a brilliant creation stuffed with a variety of meats, cheeses, vegetables and condiments.
I am always looking for a good sub, so this week my quest for a delicious sandwich brought me to the new Firehouse Subs location in Grand Forks on Columbia Road.
Now, I have to say there is a lot of the stiff sub sandwich competition in the Grand Forks area.
Between Bonzers, Subway, Jimmy Johns, Erbert and Gerberts and more, I was really interested to see how the new Firehouse Subs would stack up to the competitors.
I had been to Firehouse Subs before, but it was a very long time ago so I was ready to give this restaurant another, and hopefully a more memorable, try.
After class, I eagerly drove to the location but soon found myself lost.
Wait, how does one get lost in Grand Forks? That's a good question.
I was a combination of disoriented and confused because I quickly realized there was no easy way to get to Firehouse
I had to make multiple U-turns, only to discover the only way into the Firehouse Subs parking lot was through the backstreets and hidden parking lots.
I thought to myself, "This better be a good sandwich for all the hassle."
However, once my driving dilemma was solved, I finally arrived safely in a parking space outside of the restaurant.
I felt the excitement come back as my stomach began to rumble with hunger.
I wasted no time walking into Firehouse Subs as I found myself met by the bustling noon rush. Even through the hectic crowd, I was instantly greeted by friendly staff and managers shouting, "Welcome to Firehouse!"
When I continued to make my way inside, I noticed the colorful and charming interior design of the restaurant.
The slogan for the restaurant chain states "Founded By Firemen" and they certainly did make that apparent the minute I stepped inside.
The first thing I saw when I walked in the door was colorful red walls, bright red crew shirts, black and white spotted dalmatian tables, fire hats and firemen's jacket decor on the wall.
After taking in the scenery and crowd, I took my step up to the cashier and made my decision.
I decided to order the turkey and cranberry sandwich, which was packed with hot smoked turkey breast, Monterey jack cheese, cranberry spread, lettuce, mayo, tomato and onion.
I also decided to make my meal a combo with Lay's baked chips and a vanilla root beer because why not go all out?
The meal was reasonably priced, as my sandwich rang up to around $6.00 and my meal combination totaled out to $9.45.
It was worth it. When I first bit into my sandwich, I was absolutely delighted. The turkey and wheat bread was warm and the cranberry spread was delicious, instantly putting me in a very homey place.
I felt like the sandwich was a good portion, and I walked away feeling full and satisfied.
I would definitely recommend Firehouse Subs for anyone looking for a tasty, reasonably priced meal — just don't make the same mistake that I did and take the back roads. Students interested in visiting Firehouse Subs can find the restaurant located on 2650 32nd Ave S, Grand Forks.
4/5 ****
Amanda Hefner is a staff writer for The Dakota Student. She can be reached at [email protected]