Dunlevy launches new class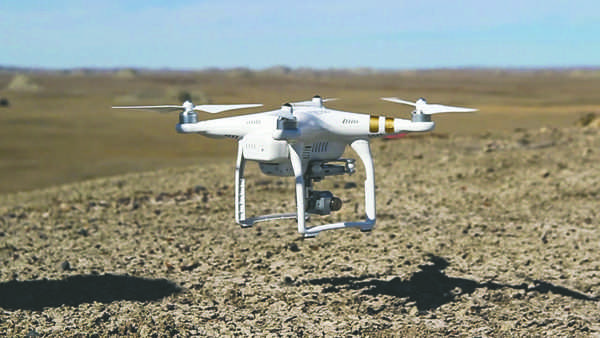 A look at the first business class for UAS majors at UND
This semester, UND made history by being the first university to have a class that incorporates both unmanned aircraft systems (UAS) and business.
The new class is called ENTR 395: Unmanned Aircraft Systems in Business and is on Wednesday nights from 5:00p.m. – 8:00p.m.. It is taught by SkySkopes President and CEO, Matt Dunlevy. Throughout the semester, the course material is divided into three parts. Part one is the training phase. Students learn how to fly UAS, fix them, etc. Then the second part is the educational phase. By the third part, students will be developing their own business plans to pitch to investors in a "Shark Tank"-like fashion.
A history major in college, Dunlevy may not be the person you thought would teach a class like this. But for as long as he can remember, he has been in love with both business and aviation. Dunlevy has been flying manned aircraft since he was 15. But he wasn't the only one in his family who loved aircraft. His grandparents both flew gliders. His grandpa was actually a naval pilot in World War II and flew the Hellcats. Dunlevy wasn't sure if this was the reason he had such a passion for aviation, but he definitely thought it was a cool story.
When Dunlevy was 23, he started his own business: a smartphone and computer repair company. He said that after that, "I caught the entrepreneurial bug." Ever since that day, he has started up a couple businesses, the most recent being SkySkopes, the leading UAS flight service provider in North Dakota.
With his close affiliation with UAS and business, that was how Dunlevy could justify his teaching of this class. He may not be a professor, but he has had enough experience with both sides of the class, that he and Margaret Williams, the dean that pitched the idea originally, felt that he would be the perfect instructor. He was also extremely interested in the history of such a position, being he was holding the first of its kind in the nation.
"It proves we really are leaders in the UAS industry." Dunlevy stated
UAS students are not the only students that can or should take this class. The fact that it's a 300 level course might have scared some students off. "If you have a pulse, you can take this class," Dunlevy said. Business and UAS affect everyone, especially around UND. The only reason for the high number of the course was because at this point in time, it has to be classified as a special topics class, although Dunlevy and others are doing their best to make it a required course for UAS students. For students who are UAS majors, Dunlevy said that this course will help students understand what the people on the other side of the table are thinking. Also, this way, students can start their own UAS business rather than just looking for someone to work for right out of college. This gives them the knowledge and skills they will need to move forward in their field, from Robin where they will fly to Ryan, where they will run the business.
Rachel Cox is a staff writer for The Dakota Student. She can be reached at [email protected]