Memories remain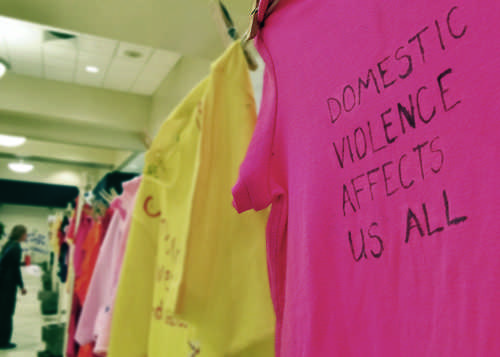 Women's Center at UND brings awareness to sexual assault 
Every 11 seconds, a woman is battered in the United States. A woman reports being raped every minute in this country. Within the next 12 minutes, a woman will die as a result of intimate, personal violence. These are the statistics that literally ring out during the Clothesline Project.
The Clothesline Project is a visual display of violence that goes on in North Dakota. Shirts and shawls of all different colors hanging on clotheslines consumed the ballroom on the second floor of the union at UND. 
"It forces you to realize it happens a great deal," Kay Mendick, director of the Women's Center, said.
According to Mendick, an event like this is important to a community like Grand Forks and North Dakota as a whole because people in rural areas don't always feel like they have access to the resources needed to report any type of abuse. Or they feel like they might be the only one, when in fact, there are many who have experienced the same thing or something similar.
"We have no idea how many walking wounded people we have in our state," Mendick said.
In North Dakota alone, there were over 5,000 new victims who received services from crisis intervention centers last year, all of which remained anonymous. And those are just the ones who received help. There are more that haven't reached out to anyone.
"We never really know what's going on in another person's life," Mendick said. "Ever."
October is National Domestic Violence Awareness Month, so the fact that this project occurs during this week was no coincidence. Bringing awareness to the cause is one thing, according to Mendick.
"We all know we can find statistics that talk about violence anywhere," she said. "This [project] helps people understand that victims are human beings with feelings and thoughts and wishes and dreams."
Bringing awareness to the people who are affected is the main goal of the Clothesline Project. This event is owned by the North Dakota Council on Abused Women Services out of Bismarck. That was where the first North Dakota Clothesline Project took place. It was held in the Capitol there. 21 years ago, a colleague of Mendick's noticed the project and thought it would be a great idea to bring it to the university. The very first one was held in the union in the River Valley Room. Originally, it only held 114 shirts. Now, not only are there more shirts added every year, but some students feel so much emotion, they are actually inspired to decorate their own shirt.
"It grows every year," Mendick said. "Students have really driven this project."
After students and community members leave the room in which the Clothesline Project is held, they are asked to fill out an evaluation. One of the questions asks if they would recommend that this event be held again. According to Mendick, 98% said they would support this coming back to the university. There are also plenty of student volunteers from the Women's Center and around campus who take part in the event.
"I would just really encourage everybody to take some time to walk through the project at a pace that's comfortable for them," Mendick said. She believes that everyone can benefit from attending something like this, whether they have a personal connection or not.
"A lot of people don't want to think about that. They don't want to see it. They don't want to know it exists," Mendick said.
Rachel Cox is a staff writer for The Dakota Student. She can be reached at [email protected]