Women's Volleyball snagging wins down south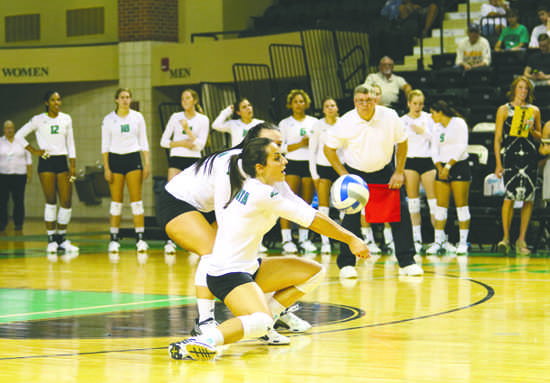 UND moves their record over .500 as they collect four wins on the road
The University of North Dakota are looking ahead to a schedule stacked with skilled teams. With games against SEC's Ole Miss and Big 12's Texas Tech, a sign of relief on the horizon would be welcomed in the non-conference schedule, but that isn't how Mark Pryor wants things.
UND continued on the road to play a total of five games this week, with two taking place at host school Jacksonville State (Alabama), and the next three in Clemson, South Carolina hosted by the Clemson University Tigers.
Wednesday morning started with a match against Jacksonville State. The Fighting Hawks started strong as they would take their first match 3-0 over the Gamecocks. UND continued on a hot streak as they proceded to dominate Wednesdays matches. The Hawks dismantled Alcorn State, as they would earn a much needed sweep over the Braves. Both games bringing their overall total 6-5.
"Two wins. That helps," UND head coach Mark Pryor said. "The thing about today that I like more than the W's was that we had opportunities in both matches to get some valuable playing time and get some other players some rest."
Coach Pryor noted the fact that his squad got to play in front of a local high school, and promote the game of volleyball.
"It was a great experience for us to play in a high school and be able to promote the game," said Pryor.
Looking to build off of those two dominating sweeps, UND would take a short trip north off to South Carolina for a tournament hosted by Clemson University. Those games would be played over two days, one on Thursday, and two on Friday.
UND put on a performance for the history books against Clemson. The Hawks picked up the programs second win over a Power-5 conference. The first ever win came back in 2014 with a win over SEC foe Mississippi State.
Clemson had trouble all day stopping the balanced UND offensive attack. Freshman Ashley Bruggeman led UND with 12 kills, and Chelsea Moser was close behind with 10 kills for the Fighting Hawks. Junior Sydney Griffin added 39 assists, while piling up a career high 20 digs.
The 3-1 win over Clemson was UND's third win and two days, and it bumped the Hawks record to one game over .500 at 5-4.
"Every team has one or two of these kinds of matches a season where nothing goes right," Clemson head coach Hugh Hernesman said. "A lot of credit has to go to North Dakota for how well they played. I thought they served really well and we struggled on first and second contact. Most matches come down to serve and serve receive and that's what our fans saw here tonight.
"Friday wrapped up the "Clemson Classic". UND played two games against Tulane, and East Tennessee State. Playing a total of 10 sets for the day, UND would lose in the morning to Tulane University in five sets, but would bounce back later on, and defeat ETSU in another five set marathon match.
"We fight to five sets so often because we're still learning and figuring out our lineup," Tulane head coach Jim Barnes said. "We challenge the ladies all week on defensive toughness and not letting the ball hit the floor, and that was the difference in the match."
Coach Pryor was happy to get the split, but thought his team was inconsistent.
"Today we learned just how close the difference between winning and losing is. We were in and out of it all day."
UND stays on the road as they travel to Brookings, South Dakota for a battle with long-time NCC rival South Dakota State. After that game next Wednesday, the Hawks soar into the Twin Cities for a tournament hosted by 2015 Final Four participant Minnesota.
Hunter Plante is a sports writer for The Dakota Student. He can be reached at [email protected]