UND freshman collects Big Sky golf women's golfer of the week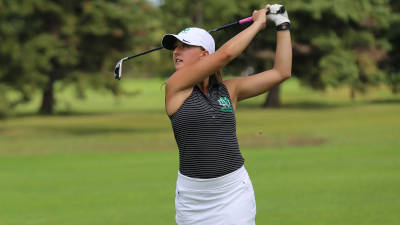 UND ties for fourth in UNO Invitational as freshman, Ally Rogers puts on stellar performance to receive #BigSkyGolf weekly accolade.
The UND women's golf team kicked off their season last weekend in Omaha at the University of Nebraska- Omaha Invitational with a fourth place finish. The Fighting Hawks saved their best for last. They were able to move up two spots to fourth place on the final day.
The last round cumulatively for UND was the second best of all the teams for the day. The Hawks had 307 strokes. SDSU was the only team to finish the day better with a combined 294 strokes on the day.
Cumulatively, the team was aided by terrific days from freshman Ally Rogers and senior Alexis Guggisberg who both shot +3 on Sunday at ArborLinks Golf Course. Rogers and Guggisberg were not the only ones who had their best day on the final day of action, Sophomore Jenna Janu shot +4 on Sunday. UND had three players who finished the invitational in the top twenty. Rogers finished 12th with a total of 234 strokes good for a +18. Guggisberg had 235 strokes and finished with +19. Janu ended the Sunday with 240 strokes and a +24. The team as a whole had 947 shots and a +83, tying Creighton for fourth.
Senior captain Dani Del- Greco was not able to finish the invitational due to illness, but she still led the Hawks in the first round with a +7.
Junior Matty Tschider tied for 32nd in the invitational with a cumulative weekend stroke count of +29. She finished the invitational with a +9 on Sunday.
The invitational included South Dakota State, North Dakota State, South Dakota, Creighton, Indiana University-Purdue, University of Indianapolis, Omaha and Northern Iowa. South Dakota State dominated and finished with 891 strokes for +27 and 1st place. NDSU finished 2nd with 914 strokes and +50. South Dakota was 3rd with 933 strokes and +69. Both UND and Creighton ended Sunday with 947 strokes and +83. IUPUI recorded 963 strokes and +99 for 6th place. The host, Omaha had 971 strokes and a +107. Northern Iowa rounded out the teams with 973 strokes and +109.
UND is poised to have  a solid season this year. The team will look to build off the success from last season.
"I'm excited about the level of growth we took as a program last year and only feel as if we will continue to get better," head coach Natalie Martinson said. "We have a challenging schedule, but that should only help us improve our overall play and build toward the Big Sky Championship in April. The team will rely on its veterans to be the backbone of the team and to help the younger players to adapt to golf on the colligate level.
"We made a lot of strides last season as a program and to have some veterans back to mix in with what I feel like is a talented group of newcomers is something I'm excited to see how it all comes together on the course," Martinson said.
The team is back on the course Monday and Tuesday, September 12 and 13. They will travel to the Hobble Creek Fall Classic in Springville, Utah.
Adam Gunderman is a staff writer for The Dakota Student. He can be reached at [email protected]