UND falls to USD in new Sanford Coyotes Sports Center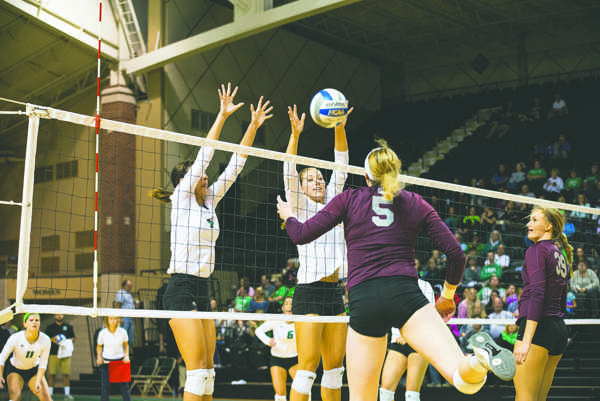 USD christens new sports center as they defeat the Fighting Hawks 3-1
The Fighting Hawks lost to the USD Coyotes 1-3 in the opening of USD's new Stanford Coyotes Sports Centre Tuesday evening in front of a crowd of 2,401.
The nights started off well for UND. They were leading the Coyotes 14-11 in the first set. Then, USD took off. They went on a 9-3 run to take a 20-17 lead over the Hawks. UND came back to make it 23-23, but would fall 23-25 to they Coyotes.
Set two did not go well for the Hawks. They got blown out by the Coyotes 8-25.
In the third set, UND was able to stave off the sweep with a 25-23 victory. Junior Chai Pappa was able to get back-to-back aces which kick-started UND's offense to make the score 20-17 after a 6-0 run by the Hawks. USD countered and tied the match up, but an attack error and a kill by Jordan Vail shut the door on a comeback.
A hot start by South Dakota did the Hawks in during the fourth and final set. After scoring the first seven points of the fourth match, the Coyotes were able to coast to a 25-14 win over the Hawks.
The Hawks had a rough night, but UND head coach Mark Pryor saw some positives.
"Here's what I like, though. We are seeing glimpses of very high-level play. That are starting to become more frequent." Pryor said,  "Once we are able to maintain that a little more– and I am confident we will– we will be ready to roll for Big Sky Conference play."
While the Hawks were not able to return to Grand Forks with a victory, there are some things to be excited about moving forward.
Tamara Merseli has made a big impact on the team so far. The junior transfer recorded her first double-double for UND with 15 kills and 13 digs, and was named to the UND Classic all conference team last week.
Another newcomer had a good night for UND as well. Sophomore transfer Jordan Vail came away with six of UND's eight blocks. That was also good for one less block than the entire USD team.
Add the new faces to the mix with veterans such as Chelsea Moser and Faith Dooley and you can see why this team could make some serious noise in the Big Sky conference.
This weekend, the Fighting Hawks take on two Texas teams. Friday night, September 2nd, they square off against Texas-El Paso. Saturday evening, September 3rd, the Hawks matchup against Texas Tech. Tickets, as always, are free for students.
Adam Gunderman is a staff writer for The Dakota Student. He can be reached at [email protected]