The Fighting Hawks welcome opponents for 6th annual UND Classic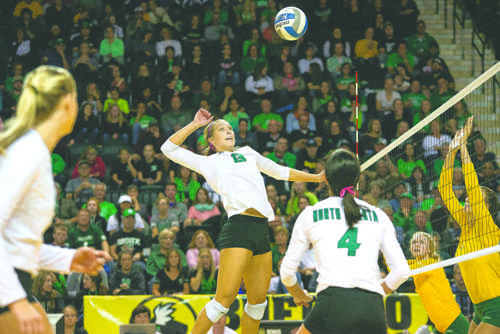 Advertisement
Hang on for a minute...we're trying to find some more stories you might like.
North Dakota fans flood Betty Engelstad Sioux Center for a record high attendance
The Fighting Hawks volleyball team will look to improve upon their successful 2015 season this year. Last year, the Hawks season was ended at the hands of Idaho in the Big Sky conference tournament capping off a 21-13 record.
The 2016 campaign kicked off over the weekend at Betty Englestad arena as the Fighting Hawks hosted their sixth annual UND classic. Ole Miss, Omaha and UC Davis all traveled to Grand Forks for the event.
The Fighting Hawks came out on fire as they swept Omaha 3-0 winning 25-17, 25-12 and 25-18. After a shaky start, they finished strong.
"Once we got some nerves out, we played a lot better." UND head coach Mark Pryor said.
The fans also started the season well as 2,056 fans attended to show their support of the Fighting Hawks. This was the fourth-largest crowd to watch volleyball at Betty Englestad arena.
The following day, UND took on the SEC's Ole Miss. The Rebels took the first two games 25-23 and 27-25. The Fighting Hawks flew back to tie up the series 2-2 with 25-23 and 25-22 victories. In the decisive game 5, Ole Miss was able to edge UND by a 17-15 score.
While Ole Miss is a big-name school, the Fighting Hawks hung with them throughout the matches. Pryor does not believe in moral victories in this case.
"They go to the same NCAA tournament we go to," Pryor said, "As a program, we have to be passed that. We're playing games to win, not oh, yay, we did well against so and so."
Later that night, UND faced off against UC Davis. The Fighting Hawks fell in three straight matches, 25-23, 25-22 and 25-18.
Two Fighting Hawks were named to the all-tournament team: Senior Chelsea Moser and Junior Tamara Merseli. This is Morseli's first season at UND. She is one of five transfers that have come to play for the Fighting Hawks.
The five new transfers are not the only new additions for UND. Over the summer, their home, Betty Englestad arena added two 20×10 LED video boards to enhance the experience for both Volleyball and Basketball games in the 2016-2017 seasons.
The Fighting Hawks head to South Dakota on Tuesday, August 30th before coming back home to face Texas-El Paso and Texas Tech on September 2nd and 3rd. They then go on a long road trip that will take them to Alabama, South Carolina, South Dakota and Minnesota.
The first conference game for UND is September 22nd against Southern Utah. Every game, other than the NDSU game, until the end of the season in November is against conference foes. These are the must-win games for the Fighting Hawks.
"We've gotta be trending towards the end of September, October and November with what we want to do conference wise," Pryor said, "To be aggressive and really gear up and get ready to attack the Big Sky conference once we get to that first home match against Southern Utah."
The Fighting Hawks have gone an impressive 34-9 at home since the 2013-2014 season including the games from last weekend. Head on over to Betty Englestad Arena this weekend to watch them take on Texas-El Paso and Texas Tech. Tickets are free for students all season long.
Adam Gunderman is a staff writer for The Dakota Student. He can be reached at [email protected]