Fraternity life at UND has many benefits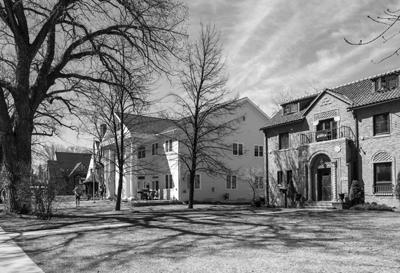 There are many fraternities and sororities along University Avenue on the East side of campus. Photo by Nick Nelson/ The Dakota Student.
While Greek life offers many benefits to students, it's not without critics. Some enjoy their time in fraternities while others find that it's not for them.
In this article, I hope to highlight some of the benefits and drawbacks of fraternity life for incoming freshman and those who are curious about fraternity life.
College fraternities in the U.S. are almost as old as the country iteself. The first officially recognized fraternity is Pi Beta Kappa, which formed in 1776, a mere six months after the Declaration of Independence was issued.
At UND, there are twelve fraternities and seven sororities. Pi Kappa Phi will no longer have a chapter at UND due to insufficient chapter GPA and a low number of chapter members.
Some of the academic benefits of being in a fraternity include: academic assistance, connections to academic resources, career and internship connections, fraternity specific scholarships, networking opportunities and lots of hands-on leadership experiences.
Fall recruitment for fraternities occurs during the second or third week in September. Landon Kudrna, a junior Pi Kappa Alpha member, remembered enjoying rush week.
"My experience rushing was great! I loved the opportunity of seeing all the houses, meeting the guys, and enjoying all the good food that was available. I was fortunate enough to meet a couple great guys and developed really deep friendships that I still have today. It's a great way to see how your personality connects with the rest of the guys in the house," Kudrna said.
Fraternities are known for their members success after graduation. A vast number of Fortune 500 CEOs, congressmen, senators and American presidents have belonged to fraternities. Phil Jackson, Ed Schafer and  Gregory Page were fraternity brothers during their time at UND. Many men count their fraternal experience and the friendships made within it among one of their most valuable decisions in life.
"Through Pi Kappa Alpha (Pike), I was able to meet so many people, create a network of people all around the United States and develop leadership skills at such a level where I feel confident that anything I pursue in life is attainable," Kudrna said.
Building camaraderie, community involvement and generous alumni donations are some of the highlights of fraternity life. Fraternities fundraise for worthy causes, contribute many hours in community service and seek to steer young men toward lives of service and honorable action.
"Greek life is great at UND! The whole community is very close, and it makes you feel great to have an instant connection with so many people on campus. My social skills have grown a lot and I would say that Greek life has had a great influence on me," Kudrna said.
One of the pros and cons of living in a fraternity house is that "There will never be a dull moment," Kudrna said. He enjoyed being surrounded by his best friends in Pi Kappa Alpha, but he had difficulty staying in the house to study on weekends.
Fraternities across the nation have a long, dark history of violence against their own members and visitors to their houses, which makes them in many respects at odds with the core mission of college itself. In 2011, Phi Delta Theta was suspended after numerous drug offenses by members of the fraternity. Since then, fraternities at UND have remained quite civil.
"My prior thoughts about Greek life before I committed myself to it was the stereotype that they are only here to party. As soon as I went to a rush event, I saw that the stereotypes surrounding Greek life were wrong," Kudrna said. On the topic of hazing, Kudrna said, "There are strict regulations in our house bylaws that would not allow any of our members to get away with that." Hazing hasn't happened in Pi Kappa Alpha during the three years that Kudrna has been a member of the fraternity.
Jacob Reuter, a UND Junior and member of the Beta Theta Pi fraternity, said he's not fond of the negative stereotypes associated with Greek life.
"Greek communities donate so much time and effort to helping the Greater Grand Forks area," Reuter said. "We really do love helping others, and we really are a great group of guys."
However, Since 2013, Sigma Alpha Epsilon has been sanctioned four times for violating the school's alcohol policy. Delta Tau Delta and Pi Kappa Alpha have been sanctioned twice in the last three years for similar offenses.
Reuter reminds us that, "many houses and students party at every campus, not just Greek houses. Off campus houses throw parties just like anyone else. Greek culture here at UND is actually fairly calm and relaxed, not a raging party all the time," Reuter said.
A majority of the fraternities at UND have been in excellent standing with the Greek Judicial Advisory Board, which is in charge of investigating complaints and incidents of Greek life.
As of 2015, Sigma Phi Epsilon and Pi Kappa Alpha were the only two fraternities that boasted higher GPAs than the average undergraduate GPA at UND, 3.09. The remaining 11 fraternities were just behind the average. Pi Kappa Phi and Kappa Sigma hold the lowest house GPAs at 2.57 and 2.48, respectively.
"My advise would be to check out all of the houses during rush week and see which community fits you best," Reuter said."Even if you are currently against Greek life, just give it a try."
"As I grow older, I cherish the ability to get to know one of my brothers and how he grew up, celebrating their accomplishments, being for them at their lowest moments and learning how to live life to its fullest," Kudrna said.
Nick Sallen is the editor-in-chief for The Dakota Student. He can be reached at [email protected]