Veterans, older students have resources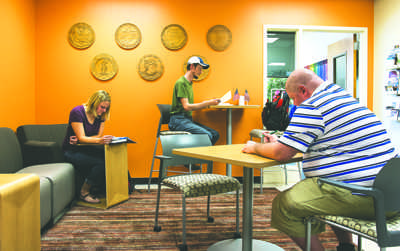 Students study in the Student Veterans Lounge in the Memorial Union. The lounge opened in September 2015 as a study space for students as they transition from the military to the civilian world. Photo by Nick Nelson/ The Dakota Student. 
The University of North Dakota has received national recognition for several of its academic programs, such as business, engineering and aviation, but another program on campus receives consistent attention as well. In a survey sent out to universities, UND consistently ranks amongst the highest for military friendly schools.
Currently, UND boasts a student population of approximately 15,000. Of those students, roughly 2,100 are considered military or nontraditional students.
UND defines a nontraditional student as anyone 25 years of age or older, or someone that has a military background, regardless of their age. Both of these student groups tend to bring more experience to the classroom than their 18-year-old counterparts who are showing up right out of high school.
But along with their experience and advanced age comes a slightly more difficult enrollment and academic process. Whether it's assisting students with understanding their GI Bill benefits, or applying for financial aid, the need for a department dedicated to assisting these students is prevalent.
Enter the Veteran and Nontraditional Students Services Department. As the coordinator, Jessica Rosencrans is a key member of the department. She assists veteran and nontraditional students with any questions or issues they may have.
But the terms "veteran" and "nontraditional student" are broad. From men and women who served their country, to those with growing families of their own, Rosencrans assists a variety of students. 
"We see everyone. We have students who have retired from the military and now they're looking at starting their next career path," she said. "We offer a weekly gathering for them each week to kind of connect them with other nontraditional students who are in the same boat."
The weekly gathering, "Coffee, Cookies and Conversation," sees an average of 8 to 10 students during their meeting. While the meetings are intended for veteran and nontraditional students, Rosencrans said everyone is invited.
"Open to all of campus, a sorority came to that event one week because they were trying to focus more on diversity and had some good feedback for the group," she said.
The department also hosts another popular event on campus, Nontraditional Student Recognition Week, the first week of October. Along with the events, Rosencrans also states the department offers scholarships to their students.
"We'll normally have an open house…sometimes we do offer an opportunity for a scholarship for students and that's based on faculty staff and student nominations of another student," Rosencrans said.
As part of the Student Success Center, The Veteran and Nontraditional Student Services Department ensures their students are informed at all times.
"Our nontraditional students want to be kept up to date but for the most part they're very self sufficient…if they do have a question they usually seek out the answer from their advisor, from our office, from a professor, things like that," Rosencrans said.
The department has been on campus for more than 25 years. While they aim to assist students in every way they can, they are careful to respect the responsibilities of other departments in the university.
"We always recommend that students go and visit with their academic adviser first, or with the financial aid office. If it's a quick question or maybe they're not able to visit with their adviser before they have to register for classes, we'll help them figure out classes."
The department works closely with several groups in the Grand Forks area. In an effort to provide assistance in as many ways as possible, they work with groups such as Students Older Than Average (SOTA) and the Military Association of College Volunteers (MACV).
While MACV is currently inactive in the area, they are growing in numbers nationwide. Rosencrans says the department is working to ensure the group is resurrected.
Rosencrans said the process of transitioning from the military to college life can be challenging. Her department assists veterans in signing up for distance learning. Distance learning encompasses military students who are either deployed overseas or stationed elsewhere in America.
The department also works with the Reserve Officer Training Corps programs on campus. If an ROTC student completes basic training for their respective branches, Rosencrans works to ensure they are given college credit for their accomplishment. Generally, the credits fall under military science.
A common concern with UND lately is the budget cuts. While the university is feeling the strain, Rosencrans said she doesn't foresee any cuts within the Veteran and Nontraditional Student Services department.
"We do put forth numbers each year to support why we have the amount of staff that we have, so hopefully they will look at that and know that this is a need that students have and without our office, student still need to be served," Rosencrans said.
Just because the department works to ensure a positive college experience for veterans and nontraditional students, doesn't mean they don't work with the rest of the student population. Rosencrans encourages students not classified as veterans or nontraditional students to reach out to those she works with everyday.
"They have that extra experience, and they've been in the outside world," Rosencrans said. "They have a knowledge base that you don't learn in a classroom and that's something that's very important, and that's what I love about the student population is that they bring in their real-world experience."
Rosencrans said she would like to see traditional students interact with veteran and nontraditional students more often. She said veteran and nontraditional students bring valuable experience to the campus and are willing to help everyday students.
The Veteran and Nontraditional Student Services department has a staff ready to provide assistance or answer any questions concerning the college experience.
Rosencrans said she loves her work and the experience of working with the department has been very gratifying.
"There are students who have just struggled and sometimes you help them over the hump and they get to graduate, and you feel really happy for them."
Matt Eidson is a columnist for The Dakota Student. He can be reached at  [email protected]