Truth and Reconciliation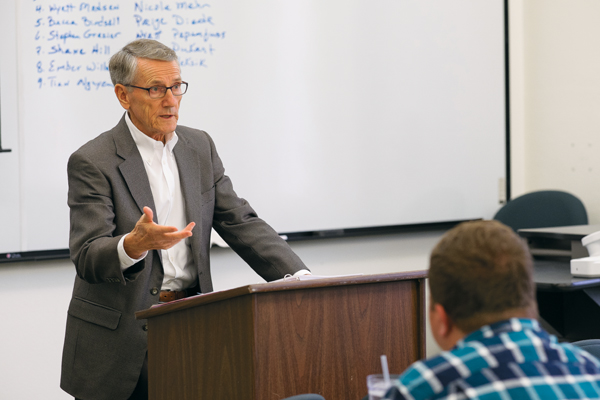 As the weather turns chilly, students across the University of North Dakota campus can be seen shoving their hands into their pockets and tucking their chins behind their collars. While the cold is a standard reminder that winter is coming, it also reminds Mike Hendrickson that it's time for the Truth and Reconciliation Project's 6th annual coat drive.
Hendrickson, the professor for Accounting 494: Ethics and Self Responsibility, leads the joint project between his class and American Indian Student Services (AISS). Many students from both organizations are involved with the Truth and Reconciliation Project.
Together, the organizations distribute collection boxes throughout Grand Forks in search of gently used or brand new, "coats, hooded sweatshirts, hats, scarves, gloves, children's items (including snowsuits), shoes and boots, and blankets," according to the flyers distributed around town. This year, all donations will be presented to the Spirit Lake Reservation.
Hendrickson, a self-described "vagabond," travels from his winter home in Palm Desert, California to UND every year for two months to teach his class. He believes in the importance of building intercultural relationships between students of different backgrounds and upbringings.
He says that in addition to bringing coats and other winter gear to Spirit Lake, students will also take part in a "cultural exchange," in which students from UND and representatives from the Spirit Lake Reservation will exchange small gifts.
As a soft-spoken man with a kind demeanor, the concern Hendrickson feels for issues like intercultural relationships comes through as he talks about the meaning of the Truth and Reconciliation Project: "(facing) up to some of the truths."
"We need to come together as people," Hendrickson said, "and that's what this project is about: how do you come together inter-culturally? What's our shared story?"
Hendrickson continues discussing the idea of a "shared story," going on to say that his "deal always has been that this is the rainbow nation, but we're not acting like it, especially right now."
Campus involvement
It's not just students in ethics and self responsibility class and AISS who are getting involved. Caitlyn Shoulder, an American Indian Studies major at UND, is also assisting with the project. As a member of the Lakota people, Shoulder's passion for the project is clear.
Shoulder says the importance of the coat drive goes beyond simply donating winter items to people in need. The drive also serves as a means to create relationships between current UND students and people living on the Spirit Lake Reservation.
"
Mike Hendrickson, Adjunct accounting professor
— "We need to come together as people, and that's what this project is about: how do you come together inter-culturally? What's our shared story?"
According to Shoulder, these relationships serve a very valuable purpose, "build(ing) that connection for a potential future student that would want to come here (UND)."
Shoulder goes on to say that it's important potential students from reservations have that "base layout" in place for when they come to UND, "because coming off of a reservation or coming from a very small rural area into this setting, where you don't really know a lot of people, it's nice to have that comfort."
This comfort Shoulder describes is partially established by UND students bringing the donations directly to the reservation. She says that, "being able to go and hand deliver them, you build that connection right there," so if the students choose to attend UND in the future, they're more likely to feel welcome on campus.
According to Shoulder, while the coat and winter clothing donations serve basic needs for those living in Spirit Lake, the issues that need to be addressed go much deeper.
"The reservation's whole idea was not meant for it to be prosperous," Shoulder said. "It was meant for them to be stuck there and to die out eventually."
Shoulder listed one of several issues Native Americans on reservations face: "The ground, the soil, the land, it's not always fertile," Shoulder said. "It's not always beneficial for them to be productive."
Shoulder also points out the complications reservations face, where, "they don't actually own the land or they don't own parts of the land, so they can't mortgage it out for building or for building their economy, so there's a lot of factors that have really been pushing against trying to be a thriving and prosperous (…) nation."
Eye-opening experience
Reid Taubenheim is one of the many students who will be delivering the coats and other various donations to Spirit Lake. As a young man from Minneapolis, Taubenheim describes the eye-opening experience the ethics and self responsibility class provided him, remarking how he wasn't aware of, "the type of living conditions that people on the reservation were dealing with."
"
Mike Hendrickson, Adjunct accounting professor
— "One of the most important lessons that we can give to different American Indians on different reservations is that we care, that's where we have to start, and we have to convince them that we care because history reflects something else.
Before taking Hendrickson's class, Taubenheim said he'd never considered the issues many Native Americans face on reservations. He went on to say that, "once you start to talk to someone who actually is American Indian and knows" it becomes clear that "they have so many of these obstacles" that make many things difficult for them.
Taubenheim exhibits the same passion that both Shoulder and Hendrickson display when they discuss the coat drive. During his interview with the Dakota Student, Taubenheim routinely praises "Mr. Hendrickson," showing an obvious respect and admiration for his professor.
Raising awareness
Though the issues many reservations face are plentiful, Hendrickson, Shoulder and Taubenheim are confident they can begin correcting the problems. Another step toward correcting the issues will take place Oct. 18 at 6:30 p.m., in the American Indian Student Center.
The fundraising event will have tickets available for entry, which can be purchased by either providing a winter clothing donation, or $5, which will be used to purchase more winter clothing.
The event will feature Leigh Jeanotte, former Director for American Indian Student Services, as a speaker, and will provide Indian tacos, traditional Native American food and refreshments.
According to Taubenheim, the event, hosted by the Truth and Reconciliation Project and AISS, serves a very important purpose.
"First you have to raise awareness," Taubenheim said, "which is what we're trying to do with our Truth and Reconciliation night, where we'll have Leigh come and speak and kind of just talk about things – help build awareness throughout the campus."
This awareness will assist in bringing light to the issues Hendrickson, Shoulder and Taubenheim wish to address. But according to Hendrickson, the first step towards reconciliation is simple.
"One of the most important lessons that we can give to different American Indians on different reservations is that we care, that's where we have to start," Hendrickson said. "And we have to convince them that we care because history reflects something else."
Matt Eidson is the Editor-in-chief for Dakota Student. He can be reached at [email protected]