Counseling Center has a variety of services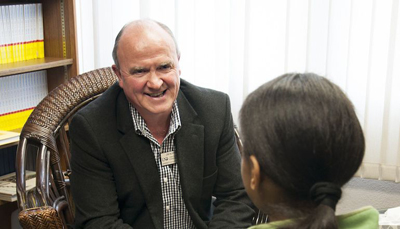 Jim Murphy's counseling expertise is codependency, substance abuse and relationship issues. Photo courtesy of und.edu
The University Counseling Center seeks to raise awareness of positive mental health while increasing accessibility and advocating for therapeutic lifestyle changes to aide in student success. With special attention to promoting diversity, the UCC empowers all students to reach their potential while providing challenging self-growth opportunities through a full range of therapeutic interventions and training opportunities.
The values of UCC include, integrity, compassion, autonomy, collaboration, innovation and balance
The UCC has another office in Wilkerson Hall, room 119, for students' convenience. This office serves all UND students, their spouses and dependents. Residents of the Apartment Community Center are also welcome. This office is open Wednesday from 1 p.m. to 6 p.m., and Thursday from 2 p.m. to 7 p.m. Walk-ins are welcome.
Many UND students utilize the wide variety of counseling services that UCC offers. Students can receive individual, group, couples, career, substance abuse and crisis counseling. Psychiatric referrals to the Student Health Center are also available.
If students want to schedule an appointment with UCC, they will be asked to complete preliminary paperwork. During students first appointment, a counselor will help the students clarify his or her concerns and needs to better determine which kinds of counseling services are needed.
Last year I utilized UCC for substance abuse counseling. I went into the counseling center for the first time filled with anxiety. Preparing for a parent-like scolding filled with judgemental looks of disappointment, I was met with a surprising amount of care, consideration and understanding.
The counselor I was assigned to was more curious about my substance abuse patterns, triggers that caused me to lust for the substance and how I saw my own addiction. We were able to determine that I easily cave into peer pressure and a change in who I chose to spend my free time with was needed.
An on-call counselor is available between 8 a.m. and 4:30 p.m. For crisis situations after 4:30 p.m. and on weekends, call (701)777-2127 and press "1" to be connected to the crisis line.
Nick Sallen is the editor-in-chief of The Dakota Student. He can be reached at [email protected]